Geraldine Naidoo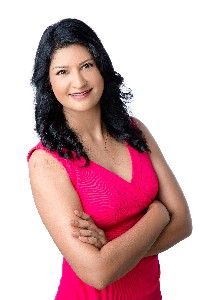 Biography
Doctorate and PhD Natural Medicine
Certified BodyTalk Practitioner
Parama Practitioner
Life Coach / Reiki Master
American Board Certified: American Association of Drugless Practitioners
American Alternative Medical Association
Geraldine has a special interest in
Anxiety / Stress related concerns
Autoimmune Disorders
Trauma
Menopause / Perimenopause
All things pain related
She runs an effective 10 week program of non invasive solutions for anyone suffering the debilitating symptoms of menopause / perimenopause based on her research study toward her Doctoral thesis at International Quantum University of Integrated Medicine. There are no contraindications to the method employed in this treatment approach.Root causes are established and symptoms disappear for good.
Geraldine also relates very well to children and has helped children with a variety of disorders / concerns with regards learning difficulties, concentration challenges, bed wetting, night terrors, bullying, eczema, anger etc. using the Quantum Medicine approach which is safe, gentle, non invasive and pain free. Children respond quickly and easily.
The Quantum Healing approach incorporates a comprehensive system of noninvasive techniques designed to help people live their lives to their full potential. It incorporates state of the art science and philosophy by integrating quantum medicine principles with the wisdom of eastern medicine and western anatomy and physiology.
The goal is to help the body unlearn the habits, belief systems, biochemical pathways and postural patterns that restrict the healthy functioning of the Bodymind complex.
The Quantum approach, in its holistic nature establishes the root cause of disease by looking at physical, emotional, environmental, and biochemical factors related to the individual, as well as all aspects of that individuals consciousness. It thus complements and supports any other mode of treatment that a person may be receiving.
Dr Naidoo has lived and worked in South Africa, the UK and the UAE, and currently has an international client base, consulting online and in person.