Geraldine Naidoo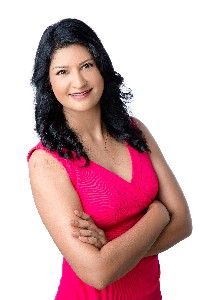 Biography
Doctorate and PhD Natural Medicine
Certified BodyTalk Practitioner /Parama Practitioner
Life Coach / Reiki Master
American Board Certified:
American Association of Drugless Practitioners
American Alternative Medical Association
Geraldine has a special interest in
Anxiety, Depression, Pain,
Autoimmune Disorders,
General wellness
Dr Geraldine is passionate about providing the expertise of a multi-dimensional quantum medicine approach to facilitate much needed change for your wellbeing.Her goal is to help your body unlearn the habits, belief systems, biochemical pathways, and postural patterns that restrict your healthy functioning.
Most people do not realise that anxiety, pain and disease is your Body's way of saying, "Help me" and, "Please pay attention, there is something painful in my story that has not been witnessed or acknowledged", and "I have not allowed myself to acknowledge my own pain/trauma".
Experiencing tension and trauma and carrying the effects with you is not a deficiency in any way. It is a part of being human.
Being able to find a different relation to that pain within you is possible. It is not about hiding, avoiding, or bypassing it, but about finding a way to accept what happened and including it into your movement into life. It's not about "moving on" from what happened to you, it's about "moving with" what has happened to you. This is possible.
Trauma lands in the physical and emotional body, leaving layers of unseen "bruises" which can keep you in a chronic state of collapse. The resulting "stuckness" and limitation, restricts not just physical movement, but also your movement into life itself.
The holistic solution to wellness has to embrace the physical, body, the emotional body, and the consciousness (awareness) of the energy field. This solution is well provided by Geraldine, who believes that transformation, change and rich accomplishment belongs to every human.
Severe ongoing personal health issues forced Dr Geraldine to look for Alternate and Complementary solutions for her own health troubles.
After experiencing first hand the limitations of pure talk therapy, Geraldine explored multiple pathways to healing and then expanded her field of study to include Somatic Experiencing, and the field of Quantum Medicine, which she found to be a truly effective, holistic, all-encompassing approach.
BodyTalk, a quantum medicine approach, provides an incredible combination of gentle, non-invasive and effective techniques to release not just the story, but simultaneously bring relief to the exact place within the body-mind complex that you are storing this limiting story. This is truly a level up approach to healing.
The quantum medicine approach provides spontaneous healing through a combination of cutting edge science and philosophy, integrating quantum medicine principles, the wisdom of eastern medicine, with western psycho-neuro-biology.
Due to its non-invasive nature, her work complements and supports any other mode of treatment that a person may be currently receiving.
Geraldine has a Doctorate in Natural Medicine, has completed studies in Psychology, and remains updated on the latest approaches to healing. She teaches Somatic experiencing, and has completed a PhD research study on the effectiveness of a quantum medicine approach to wellness, and has countless testimonies of satisfied clients who have begun embracing life more fully and joyfully as a result of their own treatment experiences with her.
Dr Naidoo has an international client base, and has been in practice for 18 years.
www.thequantumhealthstory.com
Instagram: @quantumdoctorg