Elaine Lindsey-Paek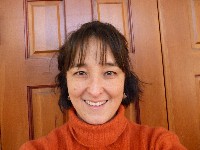 Biography
Elaine Lindsey-Paek currently lives in Albuquerque, NM. Elaine is a Registered Nurse and has a B.A. of Literature from U.C. San Diego with a dance/movement minor. Elaine completed her 200 hr. Yoga Teacher Training at High Desert Yoga, Albuquerque in 2014 with Kim Schwartz and Zoreh Afsarzadeh and continues to learn, practice and study Iyengar style yoga. She enjoys seeing yoga information come up in her sessions as well!
Elaine was a student of Jeannine Parvati Baker's Hygieia College until Jeannine's death in 2005. She has taught natural childbirth education/homebirth preparation and has worked with families and children supporting their health and well-being. She is a trained doula. She has also draws on other modalities she has studied: including Access Bars Consciousness, Matrix Energetics, essential oils and Reiki. She loves learning as much as she can about all forms of healing and, of course, continually learning more about the BodyTalk system!
Elaine was introduced to the BodyTalk system in Colorado when her whole family began treatments. They experienced many exciting results, such as allergy relief, disappearance of phobias and mental blocks, improved family dynamics as well as just generally feeling better! It had such a profound and beneficial effect on them that she traveled to New York City to being her training. She is excited to see the BodyTalk matrix expanding and growing in New Mexico. She coordinated the first ever BodyTalk Fundamentals class in New Mexico in 2013.
Elaine's hobbies include reading/stories, dance, yoga, music, gardening and cooking. She lives on an urban farm with 3 kids, 4 dogs, 13 chickens and turkeys and 1 husband.

Elaine has taken: Fundamental Integration, Principles of Consciousness, Bio–Dynamics, Macrocosmic BodyMind and Matrix Dynamics and PaRama.