Martina Fallon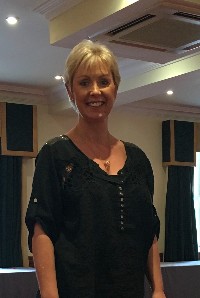 Biography
"Out beyond ideas of wrong doing and right doing, there is a field, I'll meet you there"
– Rumi
Advanced Certified BodyTalk Practitoner
PaRama BodyTalk Practitioner
Craniosacral Fascial Therapist
Massage therapist
Aromatherapist
Aestheticienne
Electrologist
Reiki Master/Teacher
SourcePoint Therapy Practitioner
My BodyTalk journey began in October 2008 through a
series of 'coincidences' that led me to having my first BodyTalk session! BodyTalk transformed my health within six weeks and lead me on a journey of continuous learning of this amazing mind/body medicine!
Fast forward to May 2009 and I took my first Fundamentals class.....I became a CBP in 2010, PaRama Practitioner in 2011 and Advanced Practitioner in 2012 and became an Access Instructor in June 2016.
I have been practicing BodyTalk since 2009 and have 25 years experience in Holistic Therapies and hold diplomas in Aromatherapy, Physiatrics, Electrology and Aestheticienne. I am also a Craniosacral Fascial Therapist, SourcePoint Therapy Practitioner, Reiki Master and I teach Reiki 1,2,3 & Practitioner course and I am a member of the Reiki Federation of Ireland.
BodyTalk
has transformed my health and the health of my children, husband, family, friends & clients. It is a simple system of
complimentary health care
that works with
your
innate wisdom to bring about
long lasting changes in your physical, mental and emotional health.
Courses Taken:
BodyTalk Access

BodyTalk Fundamentals

Fundamentals Integration

BodyTalk Principles of Consciousness

BodyTalk Bio Dynamics

BodyTalk Macrocosmic Bodymind

BodyTalk Matrix Dynamics

BodyTalk Lymphatic Drainage and Applied Anatomy & Physiology

Giving Voice to the Body A&P

BodyTalk Advanced Modules Integration

Founder Treatment Intensives

Treatment Intensives with Loesje Jacob

Treatment Intensive with Claudia Schembri-Heitmann

Treatment Intensive with Dr Janet Galipo & Dr Nancy Werner

Mindscape

Advanced Mindscape

Breakthrough 1

Breakthrough 2

FreeFall 1

PaRama 1 & Practical with John Veltheim

PaRama 1 Practical with Dr. Janet Galipo & Dr. Nancy Werner

Eastern Medicine with John Veltheim

Biophysical Mind with John Veltheim & James Oschman

IBA Members Conference 2013 (Malta)

Body Ecology

Practitioner Reflex

Energetics

IBA Member Conference 2015 (Vancouver)

Linking Awareness with Loesje Jacob

Linking Awareness Adventure Germany with Loesje Jacob

Practitioner Development Program, Malang, Indonesia with

Loesje Jacob

San Baio with Dr. Janet Galipo & Dr. Nancy Werner

SourcePoint Therapy

Module 1, 2 & 3
Theta Healing
Phytobiophyics
Aromatherapy
Physiatrics
Electrolysis
Aesthetician
Reiki Master/Teacher
Craniosacral Fascial Therapy (Gillespie approach)
Massage Therapy
IBA Members Conference 2017 (Clearwater, Florida)

Metaphysics of Treating
Clinic days and times:
Tuesday 10.00 am to 4.00 pm
Wednesday 10.00 am to 4.00 pm
Thursday 10.00 am to 4.00 pm
Friday 11.00 am to 7.00 pm
Saturday 10.00 am to 2.00pm
Distance Sessions Available: information on www.martinafallon.com
Email: martinabodytalk@gmail.com
Web: www.martinafallon.com