Leslie Joy Simmons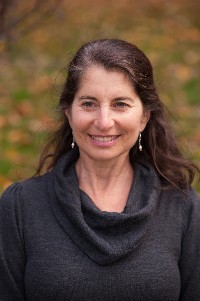 Ms. Leslie Joy Simmons
Psychotherapist,Yoga Teacher, CBP
Clinic
9 Everett St

Brunswick, ME 04011
USA
Phone: 207-729-7710
Lesliejoys@gmail.com

Biography
Leslie Joy Simmons, LCPC, CBP is a Licensed Clinical Professional Counselor,Certified Body Talk Practitioner and Certified Kripalu Yoga Instructor.
She has completed BodyTalk: Fundamentals Modules 1&2, Fundamental Integration, Principles of Consciousness, Bio-Dynamics, Macrocosmic BodyMind, Matrix Dynamics, Mindscape , Body Ecology and BodyTalk Access.
Leslie Joy has a Masters degree in Humanistic Psychology. Since the age of fourteen she has been practicing yoga, exploring meditation and learning about using altered states of consciousness to create shifts in her well-being. For the past 20 years providing therapy in both inpatient and outpatient programs, along with teaching yoga classes in her community. For the past decade Leslie Joy has been in a solo private practice working with both adolescents and adults.
Body Talk has been a part of her repertoire for self-care and work with clients
since 2009.Leslie Joy became interested in studying Body Talk after attending an Access Class with Karen Atkins. After taking up a challenge to use the Access Protocol on her self daily for a month she began to notice significant shifts in her own level of energy and joint flexibility. Professionally she is thrilled to share the benefits of Body Talk and Access with clients and has seen remarkable results as clients learn to restore communication within their cells.Leslie Joy believes that by taking steps to address our own pain and suffering through restoring communication within ourselves, we are better able to contribute in a functional way to restore health to our world. Leslie Joy
practices in Brunswick Maine and offers both local and distance sessions.
Her passion is in learning & integrating new approaches to healing and then teaching those techniques to others. As both Psychotherapist and Yoga Teacher Leslie Joy understands the need to empower others to tap their own abilities to self heal. BodyTalk has brought great healing & joy not only to her own life but to her clients and family.
Leslie Joy is a coordinator for Access and Body Talk Classes in Southern and Midcoast Maine. Please contact her for further information.