Katharina Kroeber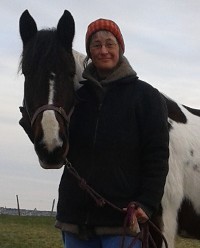 Biography
Katharina Kroeber
certified BodyTalk practitioner
Welcome! I am a certified BodyTalk practitioner working in the Northeast of Scotland, mainly in the area between Inverness and Elgin. My main clinic location is Healthworks in Forres, Moray. I also offer distance sessions.
BodyTalk is based on the body's amazing ability to heal itself within the constant flow of re-balancing that is life. In the sessions, I enjoy letting the body unfold its unique journey of health, supported by gentle tapping, and observe the often amazing results.
My own journey with BodyTalk began with reading the book by John Veltheim, the founder of BodyTalk. I quickly discovered that one of the very few BodyTalk practitioners in Scotland lived only a few miles away, and three sessions later I was not only feeling better, but was back to an energy level I hadn't experienced since childhood. I began training by learning BodyTalk Access, and was very happy to see the positive changes in myself, family and neighbours that could happen through using this short sequence of BodyTalk techniques. I continued training and in 2011 qualified as a practitioner, and alongside with offering sessions I am excited to study the newest developments in BodyTal
k. As you can see on my picture, I also love spending time with animals!
BodyTalk Training
:
BodyTalk Fundamentals
BodyTalk: Principles of Consciousness
Breakthrough 1 & Breakthrough Practical
MindScape
BodyTalk Ac
cess

BodyTalk: Bio-Dynamics
AnimalTalk
BioPhysical Mind
BodyEcology
Energetic Epigenetics
Background
Scotland has been my home since I moved here from Germany in 1993. I have worked mainly in the areas of community, sustainability, self-exploration and arts & crafts, in both education and research, including a qualification for The Transformation Game and a certificate of study with the Process Work Center in Portland, OR (USA).