Melanie Lien Palm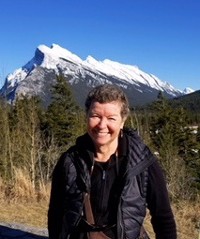 Melanie Lien Palm
PRYT, HHP, AIS, PRLM, C-IAYT, EmRes, EDS, BAT, MSI, CBP, Parama BP, AdvCBP
Clinic
4502 S Glen Pl

Rapid City, SD 57702
USA
Phone: 605.484.6765
BodyWisdom@midco.net
www.BodyWisdomMelaniePalm.com
Biography
» German
Melanie Lien Palm was introduced to BodyTalk in October of 2009, shortly after completing her certification as a Phoenix Rising Yoga Therapist. She became a Certified BodyTalk Practitioner in November of 2009 and both modalities have since been offered through her thriving private practice with Body Wisdom (www.BodyWisdomMelaniePalm.com). Melanie became an Advanced Certified BodyTalk Practitioner in August of 2012 and soon after, a PaRama BodyTalk Practitioner. Melanie is also a BodyTalk Access Trainer since December 2013, inspired to bring these tools into more homes on the reservations and across the region. She's delighted to be a MindScape Instructor since 2018 and looking forward to many adventures spreading the joy!

In 2009, Melanie was the only practitioner in the state of SD, so she started BodyTalk South Dakota, a non-profit, to offer education and community service and allow others to study the BodyTalk system without leaving their families or incurring travel expenses. BodyTalk South Dakota now has 32 BodyTalk practitioners and over 1,000 enthusiastic students! After meeting many of our goals, we closed the non-profit side and continue to hold a social media presence. If you'd like to subscribe to our newsletter, please visit www.BodyWisdomMelaniePalm.com for more information.

Melanie is also a Certified Holistic Health Practitioner and is delighted to work with a wide cross-section of clients from newborns to elders, who come with symptoms from mild to life-threatening, and often remain as clients long after their issues have cleared to continue exploring the depths of health and happiness on all levels. Melanie is grateful to be working with many families and children, partners and spouses, as family has always played a dominant, supportive role in her life, recognizing that we learn the most about ourselves through relationship.
As a child growing up in a large family, Melanie appreciated how her parents urged all of their children to 'do what makes you happy.' It was simultaneously freeing and challenging, as most anything worthwhile is. After obtaining a BFA, and then literally and figuratively dancing around the world, Melanie recognized that her parents encouragement to pursue happiness was both what allowed her a prestigious dance career and the permission to leave it. After dancing with Pina Bausch and teaching in various universities and dance companies across the US as a guest artist, choreographer and teacher, Melanie stepped out of the dance world and into the world of motherhood. She began a school that combined Waldorf and Montessori principles a year after their first child was born, to be able to stay connected with her children while providing the opportunity for other mothers to work and have their children with them.
Melanie and her husband began homeschooling their children to allow for family field trips that covered most of the National Parks in the US. After 10 marvelous years of homeschooling, her children chose to go to high school. Then Melanie pursued Phoenix Rising Yoga Therapy training and upon completion of that extensive two year process, BodyTalk fell into her lap, just as happiness finds us.

Interspersed throughout, Melanie was a homeschool author, land and GIS consultant, tree farmer, Destination Imagination coach, Artist-In-Schools for SD Arts Council, dance teacher, yoga therapist, yoga teacher, Phoenix Rising Life Mentor, ElectroDermal Stress Analyst, TiPi and Emotional Resolution Practitioner, and HelioSol Practitioner.

In keeping with the dancer's desire to strive for excellence, Melanie will continue to study and deepen her understanding of health and happiness. BodyTalk courses Melanie has studied:

Access (8x), Fundamentals (6x), Fundamentals Integration, Principles of Consciousness (2x), Bio–Dynamics (2x), Macrocosmic BodyMind, Matrix Dynamics (2x), Advanced Integration (lifelong), Anatomy & Physiology, Orthopedic Evaluation, FreeFall, PaRama 1& 2, Monitor PaRama Segments 1-8, Finding Health 1&2, Founders Treatment Intensive (4x), Eastern Medicine, MindScape (5x), MindScape for BodyTalkers, Advanced MindScape, Structural Integration for BodyTalkers, BioPhysical Mind, Energetics, Practitioner Reflex, San Biao, BodyEcology, BodyEcology Masters Group, The Soul's Journey, Lymphatic Drainage and Applied Anatomy and Physiology, Addressing Elderly Issues, and various study groups and matrix sessions offered by instructors and founder, John Veltheim. To date, Melanie coordinated over 50 classes within BodyTalk and Life Sciences and mentored 15 people in their process of learning to coordinate. She continues to mentor others who would like to coordinate. She has also taught over 50 BodyTalk Access / MindScape classes in person or online and looks forward to many more.

Melanie DELIGHTS in offering individual and group sessions and also classes in Access, MindScape and Emotional Resolution.

For more information about Body Wisdom or to read some of the many testimonials from Melanie's 'head, heart and gut' clients, please visit www.BodyWisdomMelaniePalm.com or call for an appointment.
Ich möchte alle meine Freunde einladen, die ich in Europa beim Tanzen mit Pina Bausch, um mit mir für eine Abstandssitzung in Verbindung zu treten traf! Mit Liebe! Auch ich möchte mich entschuldigen, dass ich noch Deutsches wie ein Kind spreche, jedoch ein frohes Kind!
3rd or 4th Saturday of each month (unless a holiday), ONLINE or In Person, 9:00 - 11:00 a.m. at 2218 Jackson Blvd #9 in Rapid City, SD - (9-10:00 Access, 10-11 MindScape) ACCESS 9-10MT: This is our time to go through the Access routine, refresh our memories, gather with fellow BodyTalkers, introduce our friends to what we love, share with one another what our experiences have been! MINDSCAPE 10-11MT: We spend half our time in MindScape and about half in conversation, question exploration. Call Melanie with questions 605.484.6765.

Community Service

- If you have a local charity or group that you'd like to support via complimentary Access balancings and teaching Cortices Technique, please contact us! We LOVE reaching out!