Marie Jowett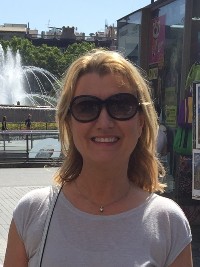 Biography
Are you tired of feeling sick and sick of feeling tired?
Background
I have always been interested in complimentary medicine – it always made sense to me to deal with the underlying cause rather than treating the symptoms.
My son was diagnosed with a milk allergy when he was only 6 months old. When I introduced formula milk into his diet his skin flared up –hives where the milk touched around his mouth and then eczema in the usual places –inside elbows & behind his knees. Our GP and then his Consultant recommended avoiding dairy as much as possible and sure enough his skin cleared up.
I searched and searched the internet for help and advice. and came across a therapy which a number of people in the USA recommended- NAET – Nambudripad's Allergy Elimination Technique. As with many people, my son not only had a reaction to milk but to several vitamins and minerals. His skin cleared up and whereas before, if he ever ate anything with a significant amount of dairy, his mouth would itch, he had no adverse symptoms whatsoever. He had his treatments over eight years ago and he is still able to drink milk and eat dairy without any problems.
I was amazed with the results –after being told that he wouldn't grow out of the allergy and would always have to avoid dairy – this was no longer the case. I didn't have a medical background or suitable qualification so I studied with the British Institute for Allergy and Elimination Therapy and completed the Diploma in Allergy and Elimination Therapy, which enabled me to continue with my ongoing journey and became a NAET practitioner in 2005.
I discovered the Bodytalk System in 2009 and realised that I had found a system which can truly deal with the body/mind as a whole. No agenda, just whatever the body prioritises. Every person is different and just as when building a house you would build strong foundations before building upwards, the Bodytalk System helps strengthen your immune system –helps to build those strong foundations – so that you can live a healthy life.
Training
I have so far taken Access, BodyTalk Fundamentals, Principles of Consciousness, Bio-dynamics, Macrocosmic BodyMind, Matrix Dynamics, Breakthrough, Mindscape, John Veltheim's Treatment Intensive and Finding Health in the UK and Body Chemistry Specifics in the USA. I am committed to continuing my studies to gain a deeper understanding of the advanced BodyTalk System. Working with Mindscape enables practitioners to work at a deeper level with the ability to offer distance sessions.
I love working with The BodyTalk System. Every session with clients is different and I continue to be amazed by the results and feedback I receive from clients.
Contact Information
Please contact me via email or by phone. If I am unable to take the call I will call you back as soon as I can.
Email: mariejowett@btinternet.com
Call: 07714721961