Katherine Stinson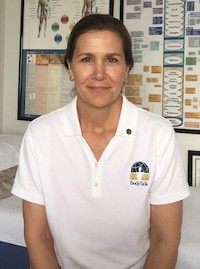 Katherine Stinson
Naturopath, Wholefood Nutrition & Wellness Advisor, CBP
Clinic
BIVIDA Health & Wellness
(BiVida = To Life)
Perth (Scarborough), Western Australia, 6019

Phone: +61 435 271 823
katherine@bivida.com.au

Biography
Certified BodyTalk Practitioner & Course Coordinator, Naturopath and Wholefoods Nutrition & Wellness Advisor.
Katherine is a natural health practitioner with over 25 years experience. Her work includes private BodyTalk sessions and Wellness consulting, and speaking with small groups on various health-related topics. She's available to work with you locally or online; both are equally effective.
Katherine also coordinates BodyTalk education classes; passionate that a person in every family should have the tools gained through this work. "Whilst a greater percentage of individuals learning BodyTalk work in healthcare in some capacity, I think a person in every family should know BodyTalk!"
Katherine has several years experience in the health store environment, in management, and now currently maintains one day a week in store; there to consult with customers as a complimentary store service.
Katherine is the founder of "BiVida Health & Wellness".
("Bi-Vida" translates "to Life")
Katherine's goal is to educate clients towards understanding the body's innate intelligence and ability to heal, and to empower and enable the individual towards making informed decisions in the process of regaining health and wellbeing.
"There is no single approach that is right for every client, which is why BodyTalk has proven to be an essential factor in the healing process."
Member of the International BodyTalk Association since 2003.
BodyTalk courses completed:


10334NAT Cert IV in BodyTalk
Australian Skills Quality Authority (ASQA)
International BodyTalk Association:

Beyond Technique w/Dr. Tracey Clark
BodyIntuitive w/Dr. Janet Galipo and Dr. Laura Stuve
Fundamentals I & II
Fundamentals Integration
BodyTalk Advanced Integration
Lymphatic Drainage & Applied A&P
Principles of Consciousness
Epigenetics for BodyTalkers
Body Chemistry Specifics w/Dr. Marita Roussey
Bio-Dynamics
Macrocosmic BodyMind
Matrix Dynamics
Right-Brain Practical
Access
BodyTalk for Animals
Mindscape
Advanced Mindscape
PaRama 1
PaRama 1 Practical
PaRama 2
Founders Session Intensive
Energetics
FreeFall I
Continued study at PaRama College.
Other related studies include:


Dip Naturopathy, Dip Nutritional Counseling,
Certificate Professional Therapeutic Massage,
Certificate in Meridian Stress Assessment,
Advanced Training Vantage Biomeridian System,
Applied Kinesiology, Homeopathy, Access Consciousness,
Clinical Aromatherapy, Herbology, Reflexology, Iridology, Accunect Connect, Reiki I, II, III; Healing Touch, Donna Eden's work, Pranic Healing, The Silva Method, P.A.T., and various other breath and energy modalities.
Outside of work, Katherine's an active volunteer for two organisations: St John Ambulance Western Australia, and Ronald McDonald House Charities Perth.
"The body is dynamic and incredibly complex; however it responds best to 'simple'."
"The body always heals given the right environment."
Have a look at the website and read about the BodyTalk system. Find a Certified BodyTalk Practitioner in your area and experience a BodyTalk session; (confirm the practitioner is an active member with the International BodyTalk Association).
If you have questions, you're welcome to contact me and I'll do my best to assist you.
Have a lovely day!