Christina Auerbach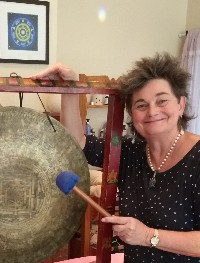 Christina Auerbach
RN, RM, Therapeutic Aromatherapist, CBP, Parama BP
Clinic
26 Symmonds Lane
BoDorp
George, WC 6529
South Africa
Phone: +27 (0) 44 873 4108
csauerbach@gmail.com

Biography
Tattwamassi
Connect with your true Self.
Christina has been working with BodyTalk since October 2003. She has remained abreast of the latest developments in BodyTalk therapy as well as completing many advanced training modules in consciousness work, energy systems of the body and the functioning of the body-mind complex. She is a PaRama BodyTalk Practitioner, a member of the PaRama College and has completed PaRama 1 & 2 modules taught by John Veltheim, founder of BodyTalk. She has also attended seminars on advanced Body Chemistry and Traditional Chinese Medicine, Mindscape and Breakthrough, The Soul's Journey, Exploring the mind and the Three Brains and Energetics.
Christina has used Bodytalk on a wide range of clients and found it an extraordinarily effective healing modality that allows a person to connect with their inner truth and purpose while at the same time addressing their physical and emotional priorities. She has had much positive feedback from clients. If you haven't yet experienced a Bodytalk session don't waste any more time! It is safe, painless, agenda free, effective and very relaxing.
She is currently working as a BodyTalk Therapist in her own practice, Tattwamassi in George, Western Cape, South Africa.
Sat, Chit, Ananda is a Sanskrit expression which means Truth, Consciousness and Bliss and Christina uses a variety of approaches to help people connect with just that. She is interested in anything which helps a person to live their life optimally.
Christina Auerbach trained and worked as a registered nurse and midwife in London, England as well as obtaining a BA Hons. degree in Social Science and Administration at Goldsmiths College, London University. In 2017 she was awarded a Masters of Education, cum laude by University of Port Elizabeth exploring mindfulness and sound in primary education. She has recently completed training as a narrative therapist through Coram Deo, University of Pretoria.
After travelling through Africa in 1983 she met and married a South African farmer and spent the next 16 years or so raising a family, spinning wool and growing organic vegetables.
Over the last twenty years, Christina has had more time to devote to deepening healing skills through Bodytalk, Therapeutic Aromatherapy, Reiki, Sound Therapy, TRE ( Trauma and stress releasing exercises introduced into this country by David Bercelli) and Narrative Therapy.
Following her love for sounding, singing and sacred chant she has formed singing groups in Kwa Zulu Natal where she lived for many years and for the last ten years in George and Knysna in the Western Cape. Several years ago she built her first monochord and the following year a Soma monochord ( sound bed) which has brought much joy and relaxation to many people.
She has given sound workshops focusing on the power of pure sound and the beneficial effects of singing and chant in KZN, Gauteng and the Western Cape.
Interests:
Practical Philosophy: How to live a life that is centred in truth and freedom
Listening
The creative power of sound, sound therapy, chant, dance, energy medicine.
Story Telling.
Qi Gong.
Organic gardening, nutrition, and sustainable homestead farming.
Spinning, mosaic-work and design.
Remedial education using music and movement.