David Huff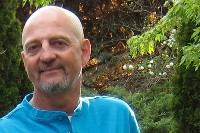 Biography
BODYTALK CREDENTIALS
David has successfully completed and implemented the concepts and techniques of:

BodyTalk Access Trainer Certification,

BodyTalk Fundamentals (modules 1and 2),
Princliples of Consciousness (module 3),
Bio-Dynamics (modules 4 and 7),

Applied Anatomy & Physiology / Lymphatic Drainage (module 5)
Macrocosmic BodyMind (module 6),

BodyTalk For Animals (module 8),

Matrix dynamics (module 9),

Advanced Modules Integration

PaRama 1, 2a, 2b academic and practicals
Orthopedic Evaluation
Structural Integration For BodyTalkers
Career Hearted For BodyTalkers

Traditional Chinese Medicine for BodyTalkers,

Body Ecology
Soul Journey and 3 Brain
BodyTalk Direct
BreakThrough 1 & 2,

MindScape,
Advanced MindScape,

FreeFall,

and Finding Health 1 and 2.

SERVICE OFFERINGS
Sessions are available from:
Tues - Sat: 10 am - 3pm @ Nature's Emporium (Daylyn), Newmarket, Ontario
Evening appointments can be arranged in advance for Wednesday evenings
Mondays: Distance sessions are available upon request
BodyTalk Access workshops throughout Ontario

PERSONAL HISTORY
Imagine waking up in the morning with no persistent aches or pains. No worry or stress about deadlines, commitments or urgent issues needing to be resolved. When BodyTalk entered David's life, 23 years as a corporate leader had taken its toll both physically and emotionally. Waking up feeling great was a thing of the past.
Fascinated by the Module 1&2 manuals, David decided to learn more about BodyTalk by enrolling in BodyTalk modules 1&2. The result was significant improvement in his personal health including:
- Standing a full one inch taller
- Chronic back pain had diminished considerably
- Cured of Irritable Bowel Syndrome
- Severe allergies to animals, grasses and pollens vanished even though years of shots and prescription medication had provided little to no relief.
- A "hammer toe" grew a normal toenail for the first time in over 35 years and the toe straightened by over 50%
Since graduating from York University in 1981 with a combined honours degree in Psychology and Economics, David has remained keenly interested in environmental and psychological influences on health and behaviour. In his heart, David had a knowing that life was coming full circle. The opportunity to fulfill his personal mission statement of eliminating the stresses that impact relationships with self, family, co-workers, friends and community had just arrived. The fact BodyTalk involved no pills, potions, products or contracts was critical to his beliefs and values.

CAN BODYTALK HELP ME?
David continues to marvel at the results he witnesses through muscle testing and gentle tapping. With a successful practice based in Barrie, "Dis-eases" successfully addressed through BodyTalk sessions with David include:
Allergies..... Anxiety attacks..... Arthritis/Bursitis..... Athletic performance..... Bacterial Infection..... Behavioural Issues..... Cancer ..... Chronic Fatigue...... Concussion..... Depression..... Fibromyalgia..... Frozen Shoulder..... Frequent Colds..... Influenza..... Migraine Headaches..... Multiple Sclerosis..... Neurological Tissue Damage..... Stress

BODYTALK TESTIMONIALS
"Despite the stress and anxiety of slower than expected sales in my new business, I am calmer than ever and sleeping like a baby." Sandra T.

"...five years ago I was diagnosed with neurological tissue damage in my ear. After just one BodyTalk session , I was able to walk and even drive a car without getting dizzy when the weather changed...". Jeff R

"...I gave the best speech of my life." Kim B.

"...the horses are getting along much better now." Pam B
Imagine how the relationships in your life would be different and how your performance could improve if you woke up every morning just feeling great! David has and he wishes the same for you.