Kris Attard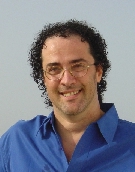 Biography
Hailing from Malta in Europe, Kris Attard is the Senior Instructor for Mindscape, and a personal development trainer. He has conducted workshops in over 10 countries, to a range of audiences, including public, specialised groups such as therapists, and corporations.
Kris has been involved in the study and practice of mind development and self growth techniques for many years. His training background comprises a spectrum of disciplines including gestalt psychotherapy, systems thinking, NLP, philosophy, biogeometry, sacred geometry and esoteric studies. He has been involved in BodyTalk and Mindscape since their very inception, having trained with John Veltheim in Malta in the 90s.
Before his career as an instructor, Kris worked in journalism, health education and advertising, with his campaigns winning creativity awards. For many years, he was also an accomplished stage magician. He has used Mindscape methods to good advantage in all his work, and having experienced firsthand what the trained mind could accomplish, was spurred on to a career of training people in ways of developing the mind's creative and intuitive faculties.
Kris teaches Mindscape in different scenarios, including top level corporate training, and is responsible for training Mindscape Instructors. He also teaches Sacred Geometry, and personal development workshops. In the corporate field, his clients have included top multi-national corporations. Corporate trainings include MindScape, deBono Six Thinking Hats and consultancy/trainings based on NLP and Systems Thinking.
He has books on mind techniques and on sacred geometry currently in preparation.


Kris' website may be viewed at www.awarenessworkshops.com