Maria Teresa Ohlson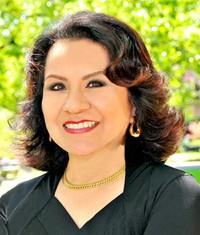 Maria Teresa Ohlson
Reiki Master, Esoteric Acupuncture Practitioner, CBP, Parama BP
Clinic
102 Distant View Dr

Asheville, NC 28803
USA
Biography
After 30 years of working in the corporate world I realized that my purpose in life was to assist others in a more meaningful way. This awakening made me decide to make a serious change in my career.
In my very first BodyTalk session in 2009, I felt an immediate connection with this very powerful, non-invasive energy healing system— I was hooked! Sessions helped me quickly release old emotional patterns, relieved pain in my right shoulder, alleviated my lactose intolerance, and improved my life overall.

In 2010, my life changed when an auto accident left my car totaled. By a miracle my life was spared, but I suffered a side-to-side whiplash that put me on disability for three weeks. Thanks to chiropractic treatments, BodyTalk and Reiki sessions, my body healed in five months without any medications whatsoever— my body was able to heal by itself. Fascinated by these results, I retired from my demanding corporate job and started my journey with the BodyTalk System™. I became a Certified Practitioner in June 2011 with the highest possible score in the qualifying exams.

I am excited and grateful to have found a powerful system like BodyTalk that can give amazing results. It's simple, effective, safe, non-invasive and truly holistic, and uses no medications; it finds the root of the problem and addresses the "priority" in the body. I am delighted that each client's session is unique and that I am able to facilitate the balancing of the client's mind, body and spirit with a simple technique – energetically tapping over the brain and the heart - to allow the body to heal naturally.

I have found my passion and now I have a way to give back to our community. I am fluent in both English and Spanish and happily offer BodyTalk sessions in either language. Many of my clients express gratitude for their health improvements.
After 7 years of having a successful practice in Northern California, my husband, Kent, and I moved to Asheville, NC in 2018 to be closer to friends and family. I'm excited to have made this move to the "mecca of wellness" and offer my wide expertise in holistic healing therapies to this beautiful community. I look forward to working with you through long-distance sessions and help you achieve the balance you deserve in your life. For local people in Asheville, I'm planning to open my practice whenever I find the right beautiful place. Stay tune!
For more information:
www.norcalbodytalk.com