Suresh Dagur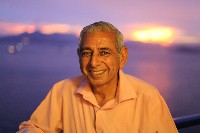 Dr. Suresh Dagur
N.D., C.Eng., F.I.Mar.E., CBI, BAT, CBP, Parama BP, AdvCBP
Clinic
252 Brighton Court, Clover Village, Wanowrie.

Pune, Maharashtr 411040
India
Phone: 91-9823015307
sureshdagur@hotmail.com
fb: BodyTalkIndia
Biography
Consistently enthusiastic about his work, Suresh, a Naturopath, draws upon a wealth of wisdom in health care and prevention from our two richest cultures. His truly holistic approach comes from his background in India (Ayurveda,Chakras,Vedanta) and Hong Kong, China (Acupuncture,Yin/Yang,Elements), and combines them with the modern western healing techniques including P.I.P. Aura Scans, CranioSacral Therapy, Electro Accupoint Stimulation, Aromatherapy, Iridology, Manual Lymph Drainage, Therapeutic Neuromuscular Manipulations, Kinesiology and Herbal treatments. He came across The Body Talk System in 2003 and knew this was 'IT'. This answered his quest for perfection and became a Certified Body Talk Practitioner in 2004 being the first in India. Subsequently he went on to complete all the modules, PaRama. Finding Health, Eastern Medicine, Body Ecology, Evolve Epigenetics and Advanced MindScape. He now combines his knowledge in Naturopathy and Therapeutic practices with the Body Talk System
with amazing results.
He is also practising Ozone Therapy after being trained by The Ozone Forum of India which combines all the global techniques from Germany, Russia and Cuba who were the pioneers of this modality.
Since his clientele is global, he conducts most of his sessions by 'distance' using MindScape techniques and assures his clients of utmost confidentiality. He also specializes in treatments for celebrity performers who need to be at their optimum ability during their performance.
He promotes Body Talk in all his talks, articles and in his workshop retreats believing it to be a practical science based on Quantum Science in practice.
There is no limit to the kind of issues that are addressed by these systems.