Jakob Merchant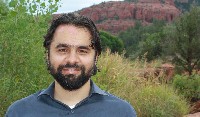 Biography
Health and Healing Clinic Website: www.Healthandhealingclinic.net
Communion with Love Ministry Website: www.communionwithlove.com
Biographie
Rev Jakob Merchant is a ordained Interfaith minister and Parama Bodytalk Practitioner
Healthcare was a central Theme in Jacobs' early years where he witnessed the compassionate care from his Father as Doctor as well as his mom as a nurse. He realized the paradigm limitation of Cartesian type medicine and philosophy very early in age as well. This should set the context for his further explorations.
In his early teenage years he studied deeply Philosophy, Psychology and Theology. This lead to many life experiences including becoming a Yoga teacher, studying Psychology at University of Salzburg and Utah state University, as well as in depth practice in Dr. David R. Hawkins work of Devotional Nonduality
During this time many deep and transformative experiences lead him to become a Interfaith minister. As Interfaith minister he further deepened his knowledge and reverence to all of the world religions as well as their contribution to Healing and happiness. Most importantly he learned in that time period that true healing needs to be addressed on all levels – physical, mental, emotional and spiritual.
The relief of suffering in all its forms always stood as central focus of Jakob's life and he realized that true healing needs to be a permanent experience. The Bodytalk system in his experience is designed to support the Self-healing of physical, mental and spiritual issues we are facing today and therefore a permanent experience of love, peace and happiness can take its place.
Today Jakob treats people on any kind of ailments from physical diseases to psychological, emotional and spiritual issues. Many of his clients describe his treatment as life changing and transformative. This is because of Jakob's commitment to love and compassion as context for all of his sessions, so that all of his clients may remember that each person is already perfect, whole and complete – an expression of love itself.
Testimonials:
I had the good fortune to experience a few Body Talk sessions with Rev. Jakob Merchant. I found them very nurturing and uplifting, just the perfect energy clearing for me at the time. I have highly recommended Jakob's work to my retreat clients and will continue to do so. Johanna, Cornville, AZ
I have thoroughly enjoyed my sessions with Jake and have experienced healing of very difficult emotions and memories through my work with him. I highly recommend him for his deep listening and compassionate approach to healing.Darren, Phoenix, AZ
I remember one long distance session with Jakob vividly. I was not feeling connected toward my partner of 24 years, was feeling resentful, and wondering how to move forward. Through BodyTalk Jakob was able to rebalance my long-standing reactions toward my husband and bring about a change in awareness. After the session I walked out of the room a different person. When I next saw my husband I realized that I truly loved him for the first time! Our relationship has transformed in numerous ways since then. Jenine, Roberts Creek,BC, Canada
Thank you very much for your Body Talk Session.After the session I could feel like a major change was made; It took a week and a few days to readjust the change to normal life. The change is still on going but I am feeling more comfortable with it now. Thank you so much for sharing your inner knowingness about relationships with me, through the session:) Jordan, Sandiego, CA
Jakob's knowledge and experience is obvious but it is his love and caring that you experience the most. I felt a real difference both in my general well being and in my level of happiness after my sessions with Jakob and these feelings have continued to last. Beverly B. Santa Fe, New Mexico
Jakob has helped me tremendously over the past year or so I have been seeing him, either for Body Talk or spiritual counseling, or a combination of both. I have come to him with various physical conditions, emotional problems, and also when I felt I needed a spiritual "tune-up". I immediately feel lighter and freer after the sessions. He helps me see my situations entirely differently. My physical ailments also have diminished and I feel more in balance. Real changes have been made in my life when I follow his simple yet very powerful suggestions.Jakob is a skilled practitioner of Body Talk and a Minister, as well as a very devoted spiritual student. Most importantly for me is the healing, loving energy that comes through him. That is what I see him for, that is what heals me. He has a unique blend of humor and deep caring and compassion that is priceless! Susan, Sedona, AZ
Bodytalk Courses Taken:
Course

Instructor

PaRama BodyTalk Unit 1

PaRama Unit 1 Practical

Veltheim John

Galipo Janet, Werner Nancy, Claudia Shembri-Heitmann

PaRama Unit 2

PaRama Unit 2 Practical

Bodytalk Advanced Integration

Module 4(7) - Biodynamics

Veltheim John

Veltheim John

Sylvia Muzinek, Claudia Shembri-Heitmann

Buzek Melanie

Module 9 - Matrix Dynamics

Galipo Janet, Claudia Shembri-Heitmann

Module 6 - Macrocosmic Bodymind

Galipo Janet

Module 2 - Fundamentals

Buzek Melanie

Module 1 - Fundamentals

Buzek Melanie

Module 3 - Consciousness

Shields, Ph.D. Mary

Module 1 Extension

Veltheim John

Advanced Procedures DVD Course

Galipo Janet

BodyTalk Access

Mindscape

Body Ecology

Treatment intensives

Fundamentals study group

Aguirre Candice T.

Kristy Kenny

Veltheim John, Laura Stuve

Veltheim John

Veltheim John et.al.
General Education History:
Where

What kind of Training

Excelsior College

One Spirit Learning Alliance

Bachelors in Science (Psychology)

Interfaith/Interspiritual Minister

International Bodytalk Association

Parama BP, Certified Bodytalk Practitioner

Penn Foster College

Professional Bridal Consultant

The Maedows

Sexual Compulsivity Clinical Training

Kripalu Yoga

Mindfulness Yoga Teacher Training

Utah State University

Graduate Work

University of Salzburg

Major in Psychology

Yoga Zentrum Passau

Yoga Instructor

Paul McKenna & Richard Bandler

NLP (= Neurolinguistic Programming) Practitioner

Kutschera Communication

NLP Training