Jo-Ann Spronk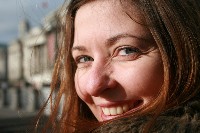 Jo-Ann Spronk
CBP,BARS, Reiki, Yoga Instructor, CBP
Clinic
Gooseberry Bush
115 Kingston Road
London, UK SW19 1LT
UK
Phone: 07568 335 477
jo.sweetbeing@gmail.com

Biography


What would your life feel like if you experienced less pain and disease? less stress and anxiety? If you could free yourself from limiting belief systems, negative thought patterns or feeling like you just aren't enough?
Imagine you could crack open and step out of all the oppressive forces weighing you down? How would you live if you if you felt abundant energy running through your body and enjoyed a mind full of creative possibility, where you heart sings with joy and you feel entirely connected and supported?
I have over 10 years' experience in energy work and am a Certified Body Talk, Reiki and BARS Practitioner as well as a qualified Yoga and Prenatal Yoga Instructor. I am also a Project Manager/Business Analyst specialising in Operational IT systems integrations. I have always been a person of two halves, searching for balance and a way to integrate what I know to be true in my heart into a linear corporate world. I believe one of the main reasons we experience so much pain, disease and mental illness is because we have lost touch with ourselves and with our bodies, instead being engulfed in a reality where society says we should feel less, do more… Keep calm and carry on. Luckily there are some wonderful tools at our disposal which we can call upon to lift us into a more conscious way of living.
I became a member of the IBA and a Certified Body Talk Practitioner in 2012. I have gone on to study several BodyTalk modalities including my favourite modality, MindScape and Advanced MindScape.
I have been blessed enough to cross paths with some amazing teachers and mentors who have taught me some truly life changing modalities. I feel privileged to be able to share what I have learnt with my students and clients.
Receive a gift that will indroduce you to the your body's own innate healer! enabling you to move through your physical, mental and emotional dis-ease.
If you'd like to arrange an appointment, either at clinic or remotely (distance) with me please email jo.sweetbeing@gmail.com
I am also an IBA approved course co-ordinator in London.
BodyTalk Courses:
BodyTalk Fundamentals
Advanced Procedures
Module 3: Principles of Conscience
Eastern Medicine
MindScape
Advanced MindScape
Other Modalities:
Yoga and Prenatal Yoga
Reiki (1&2)
BARS
Energetic Face Lift