Melody Francis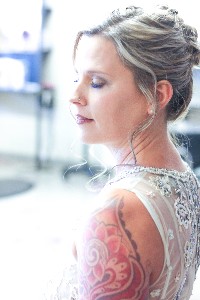 Biography
Melody J Francis, BHS, LMT, AdvCbp, eRYT500
Melody acquired her Bachelors degree in counseling from the University of Alaska, Anchorage in 2005. She was also studying the path of Yoga and becoming certified as a Yoga teacher through Yoga Alliance. Further studies led her to obtain a license in Massage Therapy, where she has studied such modalities as Myofascial Release and Thai Yoga Massage.
Melody found BodyTalk in 2011, and embarked on a journey to become a CBP; recently, she completed her Advanced Certification, and has continued other courses such as PaRama, the Holistic Health Program with Janet Galipo, and many other classes with John Veltheim.
Melody offers a variety of services at her location: Body Talk, Massage Therapy, Thai Yoga Massage, Acupuncture, Far Infrared Sauna, and Himalayan Salt Room Therapy. Melody believes that the body will automatically move toward wellness if the right ingredients are present in the "recipe" for health.
To our health as individuals and as a community I offer my services.