Laurika Beukes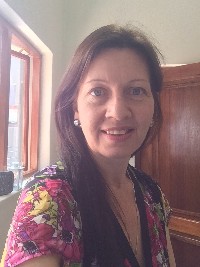 Biography
Who am I?
My journey with BodyTalk started with taking my dogs for sessions. By the 3rd session I left the dogs home and I went for the session. I was mesmerized by the wisdom, knowledge and the gentle effectiveness of the system. Soon after I booked my first BodyTalk course.
After Certifying in July 2013 and opening my own practise, BodyTalk continues to amaze me when I observe the remarkable results and shifts in clients', humans' and animals', experience. And continuing to grow and learn, not only by furthering my knowledge but also through experiencing life differently than I did in the past.
What I love about BodyTalk?
BodyTalk is a state-of-the–art approach to integrative healthcare. BodyTalk has evolved utilising a combination of highly recognised ancient as well as modern healing methods and principles of knowledge and wisdom. The body is a dynamic, interactive network of energy matrixes, consciousness and physical functioning, operating at different levels of frequencies. BodyTalk stimulates your body's innate ability to heal itself at all levels, harmonising the body-mind complex to optimize overall balance. Addressing the root cause rather than only the symptoms. as a whole.
I find BodyTalk astonishing for the personal as well as spiritual growth it supports, for the balancing/healing and relaxation of the body mind system as a whole, working on all levels: physical, emotional, mental, spiritual, environmental & on hereditary challenges & influences. One can really work on any issue or challenge you experience in your life.
It is joyful, humbling and empowering to observe the positive changes within human and animal clients in supporting them on their journey.
Animals also are affected, just like humans, by the stresses of daily life. BodyTalk's non-invasive and gentle techniques create more comfort and ease and fast healing for the animals. Animals respond to BodyTalk sessions just as dramatically as humans.
We deserve to be happy and joyful, and healthy on all levels, BodyTalk is profound in assisting you on all levels to achieve and maintain a balanced life.
BodyTalk Courses completed:
Mindscape, and Advanced Mindscape, 2011/12
BodyTalk Access for Animals (Animal health), 2011
Linking Awareness ~ Intercellular Communication ~ A Healing Journey, 2011
BodyTalk Fundamentals (Modules 1, 2), 2012
BodyTalk Fundamentals Integration, 2013
Principles of Consciousness (Module 3), 2013
Macrocosmic BodyMind (Module 6), 2013
Eastern Medicine, 2013
Matrix Dynamics (Module 9), 2016
Advanced Procedures, 2011
BodyTalk for Animals, 2015
Further studies
BioGeometry Foundation Training Levels 1, 2 and 3, 2012
Sacred Geometry
NLP Coaching, Practitioner and Master, 2012/13
Reiki 1, 2 and 3, 2012/13
Career Hearted Foundations Intensive, 2013
Anatomy and Physiology, 2014
Access Consciousness: BARS, Energetic Face Lift, Body Processes, Level 1, Foundation, 2012
Deeksha Blessings Giver, 2011
Family Constellations/ Family systemics therapy, 2005/2017
Kinesiology, 2012
My practice is in Rivonia, Johannesburg.
I also do distance/remote sessions.
Laurika Beukes
Certified BodyTalk Practitioner
For Humans and Animals
Rivonia, Johannesburg.
Cell: 061 650 8817
E-mail: Laurika.Bodytalk@gmail.com
WEB: https://www.bodytalksystem.com/practitioners/details.cfm?id=54195
FB: https://m.facebook.com/BodyTalk-Studio-841078839239621/


Testimonials:
Having had sessions with Body Talk for my sluggish lymph and storing toxins in my body, my results from Body Talk were tremendously successful . I do not believe in Doctors having to fix problems with medication as I feel it just toxifies your body even more.
My daughter has been suffering from depression and anxiety and I thought she would also benefit from Body Talk as it worked for me. She felt very pressured with the workload doing grade 11 this year and dealing with every day stress from her peers at her school. I found Laurika through the internet, and she has been seeing my daughter for about 4 sessions now. I can see a huge change, her being more confident and happy and displaying a positive attitude. She is coping much better with things she could not deal with before and she shows a sense of maturity.
I would not hesitate to refer anybody to do Body Talk, it works and the results are fantastic.
Martie
"I found Laurika to always be very passionate about Body Talk. She is very thorough and precise on every detail of the treatment. Her treatments, even while she was a student, would always have an immediate and profound positive affect on me. This she manages to do in a most non-intrusive manner."
George Papatheodorou
I have worked with 'body' practitioners for some time in my practice but also personally for the reason that our beliefs are stored on a cellular level. I recently had a powerfully shifting session with Laurika who is a Bodytalk practitioner. I felt intense emotional release during the session which also brought up some of my hidden beliefs.
I would like to mention Laurika here and if you feel it's right for you, to have a session.
Lisa Steingold
I've had 3 sessions with Laurika and with her knowledge and connectiveness, she has discovered many issues I thought I had dealt with or thought some of my issues are of no importance. To my pleasant surprise and my understanding of BodyTalk as I have studied it myself, Laurika has helped me to understand and shift these issues. Laurika has also helped me with my 3 rescue dogs and all 3 are more happier and settled. More so with Ruby a miniature Daschund who on odd occasions would wake up with nervous facial twitches and her head shaking. Two weeks after Ruby's first session no seizures have occurred.
Im very impressed with Laurika's abilities.
T/Dr R. Potgieter
"Laurika (BodyTalk) has greatly helped with the behavioral problems that I was experiencing with my female cats.
After two sessions of Body Talk my older female cat began to assert herself, instead of hiding when the younger one made an appearance. Her general physical condition has improved and she spends more time at home. Overall, she is a happier, healthier kitty-cat. Thank you."
Alexandra W.