Sophie Wallas Rasmussen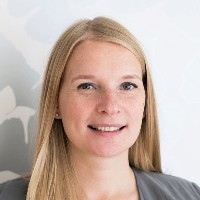 Mrs. Sophie Wallas Rasmussen
MS, MSc, BA, Reiki II, CBP
Clinic
240 Kent Avenue
Suite 2B9A
Brooklyn, NY 11249
USA
Biography
Sophie achieved her CBP in March 2014, and is currently continuing her BodyTalk studies towards the advanced certification.
She offers BodyTalk sessions along with clinical nutrition, functional medicine, and herbalism at her Holistic Life Institute HOLISCOPE, founded in 2013.
After years of illness, a health crisis in late 2012 prompted Sophie to receive a BodyTalk session at the recommendation of a friend. After two months of sessions, many of her critical problems had receded. Buoyed by her personal success with the practice, she decided to become a practitioner herself. She was especially impressed by the comprehensiveness of the system, as well as with the consciousness-based principles behind it, which correlated so well with all of her previous work combined.
Sophie has a Masters in Human Nutrition (Functional Medicine) at the University of Bridgeport, and is currently in residency at Dr Kara Fitzgerald, Sandy Hook Clinic in Connecticut.
Her masters and residency will lead to a national, board certified nutrition specialist (CNS) and later a NY state licensed dietician/nutritionist (LDN/LN) accreditation.
Previous background:
MSc in Social Anthropology from London School of Economics
BA in Anthropology from University of Copenhagen
Certified Reiki Usui Level II practitioner in 2005
Coursework in Hypnotherapy & Psychotherapy
Sophie has so far completed the following BodyTalk courses/materials:
BodyTalk Access (w/Britt Toksvig Jorgensen)
2 x Fundamentals I & II (w/Karen Atkins & Holly Steflik)
BodyTalk Advanced Procedures
Fundamentals Study Group with Founder
BodyTalk and DNA
BodyEcology (w/Jon Veltheim & Laura Stuve)
Mod 4(7) Biodynamics (w/Richard Stuart)
Mod 3 Principles of Consciousness (w/Karen Best)