Diannah E. Benson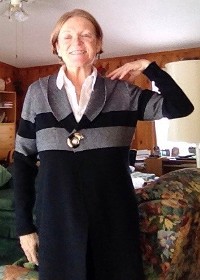 Biography
Biography
Diannah Benson, CBP, ParBP1, CArom, CFR, Holistic Nutritional Consultant, Certified BodyTalk 'Access' Trainer, Body Chemistry Specifics, BodyEcology, Vanishing Twin Survivor Issues, Certified ph360 Health Coach.
I live in a beautiful part of Ontario called Muskoka. My business name is BodyTalkSystem Muskoka and am blessed to have the healing energy of a waterfall directly across the bay from the treatment room.

I started on my journey to wellness and studying the field of energy medicine in 1990. I have both personal and professional experience in a number of the modalities covered under the BodyTalk umbrella and BodyTalk has expanded my consciousness into a much greater field of awareness. Over the years I became a Reiki Master, a Holistic Nutritional Consultant, Certified Aromatherapist and Certified Reflexologist; also balancing the body systems using acupressure release techniques for pain (trigger points) and gentle myofascia release/stretching, which addresses the connective tissue and Tensegrity balancing.
Having recovered from Chronic Fatigue syndrome I am living, breathing proof that Energy Medicine and a Consciousness based health approach to wellness is powerful. I have a healthy respect for it, and BodyTalk, and a high level of confidence that it will make positive differences in anyone's life, from the subtle to the incredible. The length of time this takes varies, depending upon the complexities of each individual's unique life story.
For example, if you are unaware that you started out life with company in the womb, and they vanished sometime in the first trimester, or beginning of the second, you will have subconscious issues around the 'loss' that will need to be addressed. This can occur in as many as one in eight births. I have studied the Vanishing Twin Syndrome and when I realized I was a womb survivor, through the BodyTalk System I was able to get to anxiety issues I had lived with my whole life. This gave me a better understanding of where the reactive behaviors came from, and what I kept attracting to myself subconsciously. This has changed my life.
Currently I am a Level 1 Parama BodyTalk Practitioner, and have completed all of the 9 modules previous to this level, and also do Body Chemistry Specifics. No longer do the clients have to avoid a host of things they were 'allergic' to - adding to their stress levels. Now I use BodyTalk Body Chemistry Specifics and focus on the frequencies of imbalances using vials to balance the allergies and intolerances that are hidden in the much deeper levels of the subconscious programming. I have taken John Veltheim's Eastern Medicine Course which expanded my understanding of the extraordinary vessels and kundalini as the energy from creation. As we expand and grow on our journey of life, knowing how to help balance energy at this level helps make the shifts and changes flow more easily. The most recent course I completed last year, BodyEcology, is so impactful on our mind, mood, digestion and stress levels. Now I work with the microbiome and the enteric brain and help bring balance in many ways.


For the lay person, learning & using the BodyTalk 'Access' Course techniques, are invaluable in keeping the bodymind balanced, lessening your need for requiring medical services for common household health challenges, and maintaining the BodyTalk treatments between sessions. These techniques can also be used to help family members and friends, and even your pets.

Learn in a day, use for a lifetime!

Access is also a good stepping stone into learning the BodyTalk System.