Bertha Cheung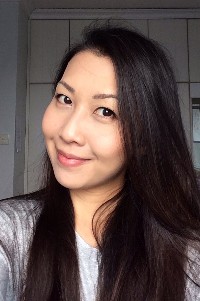 Biography
Bertha has a healing practice based in Singapore where she runs integrative energy healing sessions for both human and animal clients, predominantly focusing on BodyTalk and Bach Flower Remedies. She's trained in a range of different healing modalities including BodyTalk, Bach Flower Remedies, Biogeometry & Medical Radiesthesia, Arcturian Healing Method, Pranic Healing, Shamanic Healing, Aromatherapy, Crystal Healing and Raindrop Harmonics.
Bertha's interests in the healing arts and metaphysics have been evident since she was young. Being naturally intuitive with extra-sensory perception since childhood, she's always understood how energy works beyond the physical reality. Her former training in different modalities started in 2012 when her beloved cat, a handsome black-and-white British Shorthair, was hospitalized for a health crisis. In search of alternative and complementary health treatments, Bertha came across BodyTalk for Animals at a veterinary clinic.
What started off as a curious experiment with BodyTalk as a healthcare alternative ended up as Bertha's passion, as she observed great improvement in her feline buddy's conditions as well as her own health and well-being. She has been a Certified BodyTalk Practitioner since 2013, and effectively combines BodyTalk sessions with other modalities such as Bach Flower Remedies, Biogeometry & Medical Radiesthesia, and the Arcturian Healing Method.
Her work centers around treating the client as a whole and not as a set of symptoms to uncover and correct the root cause of any imbalance in the body-mind complex that contributes to physical, mental and emotional ailments. Bertha enjoys working with both people and animals from different walks of life, where she finds joy in assisting and observing the transformation and healing process of her clients.
Contact details:
Mobile: +(65) 91543643
Email: berthacheung23@gmail.com
Professional Certification:
Certified BodyTalk Practitioner
Bach Flower Remedies Practitioner

BodyTalk Modules:
Module1&2: BodyTalk Fundamentals
Module 3: Principle of Consciousness
Module 4&7: Bio-dynamics
Module 6: Macrocosmic BodyMind
Module 8a: BodyTalk for Animals
Module 9: Matrix Dynamics
PaRama Unit 1
Parama Practical 1
Physical Energetics
Finding Health 1&2
Eastern Medicine
Founder's Intensive
BodyTalk Access
BodyTalk Access for Animals
Other trainings include:
Bach Flower Remedies
Arcturian Healing Method Level 4 Practitioner
Advanced Biogeometry

Aromatherapy (Certified by NAHA & AIA)
Mindscape
Social Psychology & Counselling
Linking Awareness
Animal Communication
Yoga & Pranayama
Energy balancing therapy
Crystal healing
Light Language and Sound Activation & Healing