Sacha Maxwell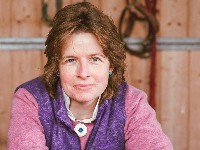 Biography
Sacha qualified a a Certified BodyTalk Practitioner in April 2013 certification as an Advanced practitioner was granted in June 2015, PaRama BodyTalk Practitioner in April 2016 and as a BodyTalk Access Trainer.
In December 2016 Sacha also qualified as a Certified BodyTalk Practitioner for Animals, a BodyTalk Access for Animals Trainer.

Sacha studied at Trinity College Dublin, gaining a degree in Natural Science (Geology) after which she went on to work in the fields of economic research, gold exploration and engineering. During this period Sacha was also involved in raising funds on the stock market and developing presentations for fund managers.
During 2018 Sacha certified as a BioGeometry Environmental Home Solutions Practitioner and provides this service to her clients as required. In 2019 Sacha also started studying the HelioSol System and in 2020 qualified as a HelioSol Technique Instructor.

In December 2014 Sacha was made redundant after eleven years working for a racehorse trainer dealing with clients, suppliers, employees and over eighty horses. Constantly working to tight deadlines and ensuring that the yard ran as smoothly as possible whilst also studying BodyTalk was a test of her organisational skills and time management practice.
With her connection to the environment Sacha works with both human and animal clients at her clinic; she also offers remote treatments and home visits if appropriate.
Sacha also travels to the UK and to France to run clinics in person twice a year in conjunction with her remote clients. Sacha also offers her clients the opportunity to empower themselves to manage their own health issues using the BodyTalk Access routine.
Sacha is constantly reviewing courses and material covered to ensure that she can offer clients the most up to date knowledge and theory that is available.
Based in Ballypatrick on the south eastern side of
Slievenamon
, her practice is ideally located within easy reach of Clonmel, Waterford and Kilkenny. There is a convenient coach service from Dublin Airport that stops within a mile of the clinic, so for clients or course participants transport from Dublin is quite straight forward. The clinic is open Monday - Saturday by prior appointment.
The clinic is also used for hosting Fundamentals for humans, BodyTalk for Fundamentals Animals, MindScape and advanced courses such as Principles of Consciousness. There are plans to expand the facilities to be able to cater for larger groups as well as extending the range of courses on offer. There is ample overnight accommodation in Clonmel, which is only 8 miles away.

Qualifications
BA Hons Natural Science (Geology) National University of Ireland Trinity College
BGEHS - Licenced Practitioner
HelioSol Instructor
Advanced Certified BodyTalk Practitioner
BodyTalk for Animals Practitioner
PaRama BodyTalk Practitioner
BodyTalk Access Trainer
QQI Level 6 Training Needs and Evaluation
Business Diploma
British Horse Society qualifications
Pony Club B Test

BodyTalk courses taken to date:
Access
Fundamentals 1 & 2
Fundamentals Integration
Principles of Consciousness
Bio-dynamics
Macro-Cosmic Mind
Matrix Dynamics
Advanced Integration
BodyTalk for Animals
Finding Health 1
PaRama 1 Theory
PaRama Unit 1 Practical
Body Ecology
Fascial Balancing
Structural Integration
Eastern Medicine with Dr John Veltheim
BodyTalk for Plants with Dr John Veltheim
Mindscape
Advanced Mindscape
Access for Animals
Fundamentals Study Group with Dr John Veltheim
Principles of Consciousness Study Group with Dr John Veltheim
Macro-cosmic Bodymind Study Group with Dr John Veltheim
Practitioner Reflex with Dr John Veltheim
Energetics with Dr John Veltheim
Body Psychology Shoulders Hips and Spine with Dr John Veltheim
Body Psychology Organs Endocrines Fascia and Water with Dr John Veltheim
Circadian Rhythm Course
Three Brains & Souls Journey
BodyTalk Direct
Other Courses taken:
Biogeometry Foundation Levels 1-3
Biogeometry Advanced Levels 4-6
Biogeometry Practitioner Training BG-EHS
HelioSol System & Technique
Linking Awareness Journey
Linking Awareness Adventure
Chios - levels 1 & 2
IET - level 1