Di Scurr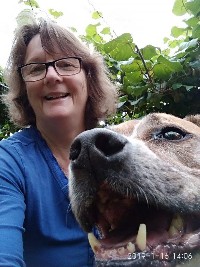 Biography
Come and relax in my tranquil cabin amongst native trees and birds in the Tauranga (Bay of Plenty) countryside, where we can allow BodyTalk to gently refine and support your journey to wellness.
I am also passionate about the health and well-being of our dog friends, along with their people. Other animals are also very welcome!
We can either meet at my cabin, or as BodyTalk can be facilitated from a distance, you or your animal friend can stay at home. We can also discuss my coming out to your place.
Please visit my website for loads of information and/or email me with your questions.
I look forward to sharing time with you and/or your animal companion!
Warmly, Di
Certified BodyTalk Practitioner
BodyTalk Access
BodyTalk Access for Animals
BodyTalk Advanced Protocol and Procedures
BodyTalk (Mod 1&2) Fundamentals
BodyTalk (Mod 3) Principles of Consciousness
BodyTalk (Mod 4[7]) Bio Dynamics
BodyTalk (Mod 5) Anatomy & Physiology and Lymphatic Drainage
BodyTalk (Mod 6) Macrocosmic BodyMind
BodyTalk (Mod 8a) for Animals
BodyTalk (Mod 9) Matrix Dynamics
Mindscape
Mindscape for Practitioners
Linking Awareness Intercellular Communication
CareerHearted
BOPP Certificate in Animal Care
Animal Communication
Homeopathy First Aid for Animals
Sacred Christed Energies
BOPP Certificate in Relaxation Massage
BOPP Certificate in Adult Teaching
NZIM Certificate in Small Business Management
BOPP Diploma in Business
NZIM Diploma in Management
Telford Certificate in Organic Horticulture
Certificate in Raw Dog Food Nutrition