Di Scurr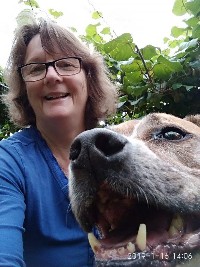 Biography
You will find my practice amongst native trees and birds in the Tauranga (New Zealand) countryside when you will benefit at each session from your body highlighting what it requires specifically on that day being bought back into balance for increased health and well-being; encouraging self healing to occur.
BodyTalk is also available for animals for which I am trained. Dogs particularly are my passion when I can also assist with their diet if you choose.

Please visit my website for loads of information and/or email me with your questions.
I look forward to sharing time with you and/or your animal companion!

Warmly, Di
Certified BodyTalk Practitioner
Relevant / complimentary courses completed:
· BodyTalk Access
· BodyTalk Access for Animals
· BodyTalk Advanced Protocol and Procedures
· BodyTalk (Mod 1&2) Fundamentals
· BodyTalk (Mod 3) Principles of Consciousness
· BodyTalk (Mod 4[7]) Bio Dynamics
· BodyTalk (Mod 5) Anatomy & Physiology and Lymphatic Drainage
· BodyTalk (Mod 6) Macrocosmic BodyMind
· BodyTalk (Mod 8a) for Animals
· BodyTalk (Mod 9) Matrix Dynamics
· BodyTalk Fundamentals Integration
· BodyTalk Mindscape
· BodyTalk Mindscape for Practitioners
· Linking Awareness Intercellular Communication
· CareerHearted
· Animal Communication
· Homeopathy First Aid for Animals
· Sacred Christed Energies
· BOP Polytechnic (BOPP) Certificate in Animal Care
· BOPP Certificate in Relaxation Massage
· BOPP Certificate in Adult Teaching
· BOPP Diploma in Business
· New Zealand Institute in Management (NZIM) Certificate in Small Business Management
· NZIM Diploma in Management
· Telford (within Southern Institute of Technology) Certificate in Organic Horticulture
· Certificate in Raw Dog Food Nutrition (with Dogs Naturally - Canada)