Judith Rybicki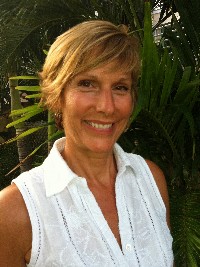 Biography
Dr. Judith Rybicki holds a Bachelors of Science in Anthropology from University of Wisconsin Madison and a Master's Degree in Chinese Medicine from Southwestern Acupuncture College in Albuquerque, New Mexico. Judith has completed all 9 Modules including Finding Health 1 & 2 and Advance Integration with John Veltheim the founder of BodyTalk and has been a Parama BodyTalk Practitioner for over 9 years. She speaks Spanish and some conversational Portuguese.
Judith also has professional qualifications in Western Herbal Medicine, Quantum Reflex Analysis and is trained in Massage Therapy, Ayurveda and Yoga. Prior to the healing arts, she spent over two years in rural health development in the Peace Corps Paraguay teaching women healthier living with vegetable gardening, stove making and basic health and nutrition. Her experience is vast in the field of natural healing including operating a successful Acupuncture Clinic in a hospital setting in Wisconsin and operating the Botanical Body Center in New Mexico for ten years. She is active in building the matrix of BodyTalkers in Wisconsin and is dedicated to serve both Wisconsin and Florida communities.
"BodyTalk is designed for the complex modern person who desires to awaken by confronting old belief systems and who wishes to leave their old baggage behind. I consider it a privledge to know and be able to combine it with the skillful wisdom of ancient Chinese Medicine. The combination of the two helps me understand and treat the root of the root so to speak for each unique patient. Chronic pain, auto-immune disorders, gall and kidney stones and other serious illnesses can be detected and resolved very simply with this amazing combination of holisitc healing modalities."
"With 30 years of experience in private practice and as an educator in the field of Natural Medicine, I am excited to teach BodyTalk Access in Florida and Wisconsin. Of all the Health Maintanance Systems available to us BodyTalk Access is the most comprehensive and effective 7 minute cup of coffee! It truly is amazing and the Fast Aid techniqe borders on miraculous. Replace those trips to CVS and Wallgreens!"
I have studied many different healing systems on my continuous path of spiritual and personal growth. I am especially very excited to be a part of BodyTalk's cutting-edge energy medicine system, and to be using it to help people reach a more open, relaxed and healthier state of being. As an Access BodyTalk Instructor I am excited to help spread this super effective medicine to people who most need accessible, affordable health care. It's not only easy to learn it is such a loving tool to use daily to improve your health and well-being. It is everyone's inalienable right to enjoy an equally healthy life. "