Robyn Holm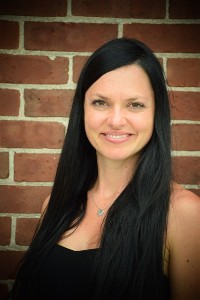 Biography
What is BodyTalk?
BodyTalk is a simple and effective form of wholistic healthcare that contributes to the balance of the body and mind. It works with the priorities of the body to address various conditions on a mental, emotional, energetic, and physical level.
Your body is designed to heal itself. When all the parts and systems of the body communicate with each other, healing happens naturally. However, stress can cause communication breakdowns, resulting in illness. BodyTalk identifies theses breakdowns and restores communication, helping the body to heal itself.
About Robyn:
After 10 years in the health and fitness industry as a group fitness expert, International Instructor Trainer (Zumba Fitness®), and Fitness Consultant,
Robyn believes that there is more to health than just
diet and lifestyle.

"In my experience, nutrition and fitness (though vastly important)
are only pieces in a larger puzzle that make up our individual health picture. Throughout my fitness career, I appeared to be extremely fit and healthy, though I was chronically exhausted due to adrenal fatigue, I was plagued with crippling anxiety, and suffered with food intolerances, digestive disorders, poor sleep and injuries that wouldn't heal.
As I struggled to heal my body, I immersed myself in studies on nutrition and alternative health therapies like Chinese Medicine, naturopathy, homeopathy,yoga,etc.
Though these were all pieces that helped in some way, it wasn't until I discovered BodyTalk and began to unravel the mind/body/spirit connection that my body and mind began to put all the pieces together and truly heal."

Robyn believes that BodyTalk is an effective holistic healthcare system that can help people move past the blockages (mental, physical, emotional) that are limiting their true expression of health and vitality.


Robyn welcomes all people to her 'Okanagan BodyTalk and Wellness' practice, but she is especially passionate about working with children and families, those who have "tried it all" and are puzzled by their mental, physical and/or emotional health challenges, and those that struggle with stress/anxiety.

Please call 250-212-7955 or email robynholm@okbtw.ca
for more info or to book an appointment,
or visit my website at www.okbodytalkandwellness.com

What Robyn's Clients are saying:
"Robyn's wisdom and knowledge are presented extraordinarily through her talents in BodyTalk and further in her passion for nutrition and whole body wellness. Her sessions are nothing short of being powerful, precise and compassionate. Leaving you in awe as she brings forth a strong sense of clear communication through language and feeling. My life is forever changed from not only the healing she facilitated for me but also getting to know the beautiful person that Robyn is. I highly recommend her for BodyTalk as well as any body wellness questions you may have."



__________________
Modules and Courses Completed
:
BodyTalk Access
Fundamentals (Mod 1/2)
Principles of Consciousness (Mod 3)
Bio-Dynamics (Mod 4/7)
Lymphatic Drainage and Applied A&P (Mod 5)
Macrocosmic BodyMind (Mod 6)
Matrix Dynamics (Mod 9)
BodyTalk Advanced Integration
BodyEcology
Eastern Medicine
BodyPsychology-Shoulders, Hips and Spine
Linking Awareness-Intercellular Communication
BCRPA Weight Trainer and Fitness Leader
canfitpro FIS
AFAA Group Exercise
AFAA Yoga Certificate
'BodyTrainingSystems/MOSSA' -7 Modules
Zumba Fitness®- 6 Modules


Further studies:
anatomy, physiology, biomechanics, kinesiology, resistance training, nutrition, food allergies and intolerances, GAPS, low-carb eating, Paleo and Primal lifestyles, Weston A. Price philosophy, Traditional Chinese Medicine, EFT(Tapping), psychology.