Patty Truong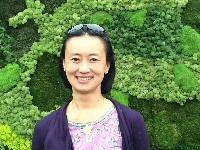 Biography
I work with students who learn differently. I am always looking for new tools and techniques in this quest to help them feel empowered and included. Body Talk has allowed me to impact them in very subtle put profound ways. Some students have spontaneously exclaimed that they feel like floating just from doing the simple Cortices technique.
More importantly, Body Talk has allowed me to have a far wider impact than just with students. Body Talk is a comprehensive whole health system that has allowed me to help clients with a variety of concerns whether it be physical, mental or emotional; everything that makes us human. The body has an innate ability to heal itself. Couple this with Body Talk's core principles of Permission and Priority, Body Talk has allowed me to help my clients get to a better place of balance and well being.
It is exciting and rewarding for me to help facilitate someone's well being but to also empower them to help themselves.
BodyTalk Courses
Access
Fundamentals
Mindscape
Principles of Consciousness
BioDynamics
Lymphatic Drainage & Applied AP
Microcosmic Bodymind
Matrix
Body Ecology
Epigenetics
Energetics
In Progress
PaRama Unit 1
Other Certifications
Indian Head Massage
NLP Practitioner
Reiki Master