Elke Schenk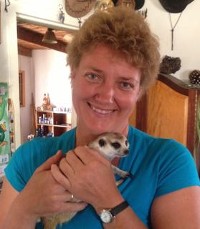 Mrs. Elke Schenk
CBP
Clinic
18 Alberts Street, Pionierspark

Windhoek, 9000
Namibia
Phone: +264 81 273 5402
elke.bodytalk@gmail.com

Biography
I got introduced to BodyTalk one fine day that I was hanging around in the dam with my dive buddies. After the information evening I just knew that BodyTalk was my future.
What fascinates me till today is that it is an ever ongoing learning and understanding about the connection of the Bodymind and the environment within the universe.
During my life I have attended many courses and I eventually found my greatest joy and success with BodyTalk, Atlas and Body in Balance and Access Consciousness. I have realised that with these three modalities I am able to contribute towards the most profound shifts in people and animals. As animals have been a part of my whole life, I do like to work with them in many different ways. Horses riding is one of my passions, which included breeding and training as well.
I enjoy working in these modalities and see how people and animals shift and heal in the most amazing ways.
In September 2014 I became a Certified BodyTalk Practitioner.
The BodyTalk courses I have attended so far:
BodyTalk Access
BodyTalk Fundamentals
Lymphatic Drainage and Applied Anatomy&Physiology Mod 5
Lifeprint Level 1
MindScape and Advanced MindScape
Orthopedic BodyTalk Evaluation Level 1
BodyTalk Fascial Balancing Level 1
BodyTalk Bio Dynamics
BodyTalk Macrocosmic Bodymind Mod 6
Principles of Consciousness Mod 3
BodyTalk Matrix Dynamics Mod 9
Linking Awareness
BodyTalk Fundamentals for Animals
BodyTalk Access for Animals
PaRama Unit 1
BodyTalk Advanced Integration
Energetics
Further practicing:
Practitioner for 'Atlas and Body in Balance'
Practitioner and Facilitator in 'Access Consciousness BARS'
Practitioner in 'Access Consciousness'
Practitioner in 'Kinesiology for Weight Loss'
Reiki Level 1 & 2
I am looking forward to meet you and contribute towards your journey of health, joy and ease!