Yannoula Webb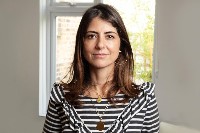 Biography
Everyone has a story. We know that our experiences and the events of our lives inform the person that we are today. We can, track how this has influenced our character and behaviour. The fascinating thing is that our life story also dictates our state of health and vitality.
I was first attracted to BodyTalk because I was feeling under pressure in my life and I felt as if my "story" was going in a bad direction. I'd been working with celebrities and fashion brands most of my career and at this point had my own agency. We had two young children. My partner also had his own fast-paced business, and although we had plenty to be grateful for, we were stressed.
At night I would lie in bed with a horrible, palpitating tightness in my chest and restlessness, which would turn into anxiety and at worst, panic. I needed to address this so as well as seeing my GP I found BodyTalk.
The transformative effect of BodyTalk was incredible. Nothing on the outside had changed. But my relationship to the full on demands of family life and running a business changed - like it does when you take a holiday. The BodyTalk sessions were giving me perspective and a renewed sense of vitality to deal with stuff. And importantly the alarming night-time symptoms I experienced went away.
After six months of regular sessions I decided I wanted to know more about BodyTalk and decided to study it and see where it tool me. I qualified as a CBP in October 2018 and continue to study the system today as I work towards advanced practitioner status.
BodyTalk offers clients a broad approach to healing by using the wisdom of Eastern and Western medical traditions. It therefore has the ability to work at the physical level of the body, to help heal injury or disease as well as clear any energetic blockages that contribute to lasting health. Physical and energetic balance is reflected in the mind creating a positive, "can do" mentality for clients.
Having been on both sides of the BodyTalk System, as a client and now a practitioner, I am always stunned by the systems capacity to heal. Wonderfully, it is easily integrated into any other healthcare regime or can be used as a stand-alone.
As a consciousness based healthcare system, BodyTalk is in a dialogue with the body to work out where and how the body is suffering. Through light holding and tapping, BodyTalk is able to establish pathways to healing by engaging support from the other systems in the body, clearing the way to wellness.
In my practice I have seen this is action. When clients undergoing chemotherapy see me they are able to cope with the side effect better as we support the body despite supressed immunity. It can also help the body cleanse itself of harsh medicines - aiding recovery from treatment.
A common side effect of bone breakages, fractures and arthritic pain is the frustration associated with limited mobility. Clients with this symptom say their mood lifts and recovery is better and faster.
Clients, who operate in a perpetually stressful environment, at home or in work, also seek help with BodyTalk. Common feedback is that associated symptoms pass with regular sessions, like anxiety or panic attacks or extreme headaches as we balance hormone secretion and elimination of waste from excess production. It helps them make better lifestyle choices to support their health.
Adults, who have experienced trauma and abuse in childhood, report that memories can arise safely. Being hijacked by emotions when revisiting a painful memory is a constant worry for traumatised people and BodyTalk helps by accessing the associated brain centres that control this.
BodyTalk can address the emotional toil of illness and injury too, because it looks at the whole person. After all, this can be just as damaging. The safe environment of the sessions creates a space for compassionate healing to take place, something that I believe is the key to allowing our issues to surface and dissolve effectively.