Kayla Tarala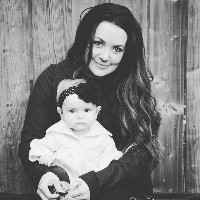 Biography
Kayla's BodyTalk journey began in 2013; her dad had recently been diagnosed with Cancer and her life felt like it had been turned upside down. After her first session, she knew that this was what she had been searching for her entire life; she needed more, so she continued to have regular sessions. BodyTalk has helped and continues to help her through the grief and loss of her dad. It has helped her through periods of depression, specifically after having children; Physically, Kayla's IBS and Asthma have completely resolved; Daily it helps her to navigate her emotions, stress and relationships. Kayla took her first BodyTalk course in 2014 and became certified in April of 2018.
More recently Kayla has been diving into Conscious Living Investigation work under her mentor and founder of CLI, Ms. Kelley Burry (AdvCBP and Instructor). CLI has allowed Kayla to live life with more awareness and given her the tools to break down belief systems that are no longer serving her.
Along with being a certified BodyTalk Practitioner, Kayla has taken Principles of Consciousness, Bio-Dynamics and MindScape. She also holds a Bachelors degree in both Science and Education.