Jeanna Viramontes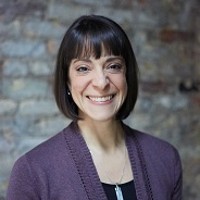 Biography
Jeanna is the owner and founder of Space to be Well, LLC. As a lifelong learner and educator, Jeanna has taught groups of healthcare providers, movement professionals and the general public about health and wellness throughout her career.
She has mentored business owners, healthcare professionals and tomorrow's thought-leaders. Over ten years of experience as an entrepreneur provides a vast storehouse of knowledge and experience to draw upon for the Business Coaching Program.
Over the course of sixteen years as a physical therapist, Jeanna has transformed knowledge gained from formal education and experiences into a unique type of healing art to support you.
She intuitively blends her wisdom from years of experience as a business woman with foundational concepts of life sciences to create a unique offering of coaching and education.
Jeanna works with local clients and ones who live outside of the Midwest. Sessions take place through secure, encrypted video conferencing or by phone.

The Business Coaching Program with Jeanna provides fertile ground for you to cultivate new ideas and bring your vision into the physical world. It is intended to deepen the connection with your intuition and support professional growth and transformation.
We start with a consultation to learn about you and set goals for our collaboration. The Program includes private coaching sessions with Jeanna. They are unique; she uses the BodyTalk System and mind-based tools to bring awareness to beliefs and patterns that may be limiting your professional growth and success.

We utilize the BodyTalk System, visualization tools and representation as methods to help you move past these limiting beliefs and patterns that can be affecting your perception and response to stress. Clients typically notice improved success in professional relationships and greater ease and confidence in the workplace as a result of the private sessions.
Participation in the Program includes access to additional business education resources along with membership in the LinkedIn Forum to collaborate with other like-minded professionals. The Forum offers a space for you to share ideas and insight and learn from your fellow members.

Health Coaching helps build resilience to stress. Sessions combine Jeanna's scientific knowledge of the human body with intuitive information about energetic blockages affecting your health. Light tapping on specific areas of the body support positive changes in your bodymind. The BodyTalk System provides a foundation for the sessions and they may also include visualization, movement or other techniques to improve your health.
Clients typically feel a sense of lightness and greater well being immediately after a session. In the days following, many feel a delayed shift in their physical, emotional or spiritual health. Over time, they often notice a change in personal and workplace relationship dynamics and greater resilience to respond to life's challenges.
Licensed Physical Therapist in WI and MN, USA
Bachelor of Arts Degree, College of St. Benedict, 1999
Master of Physical Therapy Degree, Mayo School of Health Sciences, 2002
Postural Restoration Certified Therapist, 2007
Reiki Certified, Level I and II, 2015
Certified BodyTalk Practitioner, 2017