Remar Soliza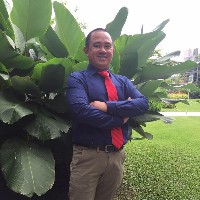 Remar Soliza
BAT, CBP
Clinic
Purok Sampaguita, Brgy. San Juan
Sto. Tomas, Batangas
, 4234
Philippines
Phone: +639064701079
remarmsoliza@yahoo.com

Biography
Remar has journeyed with people from all walks of life (farmers, fisher folks, indigenous tribes, orphans, youth, elderly, lepers, prisoners and many others), since 1997 when he was living a life as a missionary. He fully immersed himself to almost all the far flung communities from the Southern most areas to the Northern most islands of the Philippines.
The vast 20-years of 'in-the-field' experience has given him the opportunity to grasp the essence of what people are going through as opposed to gaining knowledge from books only.
As such, he has developed the skill to naturally connect with people, share what he learns and impart knowledge to people from all walks of life.
He truly believes that the process of acquiring knowledge that helps deepen the understanding about oneself, an empowering journey to discover the core foundation of one's life. That journey leads to strengthening one's faith, so its not easily swayed by others' opinions.
Remar came to know about BodyTalk in 2012 in one of his missions to Tacloban, where he met Marilen, a BodyTalk Access Outreacher who volunteered her time reaching-out to the victims of the super-typhoon Haiyan.
He was amazed to witness how simple yet effective BodyTalk is. What he admired most about BodyTalk is the simplicity that even with basic knowledge of the system, one can already apply the techniques immediately and gain from it. From then on, Remar could not turn his back from learning more about BodyTalk.
He attended seminars, workshops, and all the necessary trainings in the Philippines, Indonesia, Singapore, and Hong Kong for him to deepen his knowledge and skills needed for him to become a Certified BodyTalk Practitioner.
He also invites Instructors to teach in the Philippines, for he believes that this great system ought not to be kept a secret!!!.
He himself became a BodyTalk Access outreacher and is now a Certified BodyTalk Access Trainer.
As an Access Outreacher and BodyTalk Access Trainer, his goals are that every Filipino family knows how to use the BodyTalk Access techniques.
He is currently offering BodyTalk sessions as a Guest Practitioner in several Healing houses in Manila and nearby provinces in the Philippines.
He performs "magic" to clients outside his physical reach by doing distance/remote BodyTalk sessions using his knowledge integrating the basic and Advanced MindScape skills.
To experience what many other clients have already felt having sessions with Remar, get in touch with him to book an appointment.
Remar M. Soliza ~ CBP, BAT