Aumatma Shah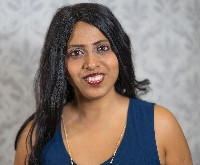 Biography
Dr. Aumatma is a Naturopathic Doctor, with an MS in Nutrition, who has been practicing medicine for 10 years. She is also a sought out speaker on topics of Fertility, Women's Health, and Women's Empowerment. She has been practicing BodyTalk since 2014 and has taken all advanced level classes, in addition to Structural Integration, Epigenetics, and BodyEcology.
Dr. Aumatma is committed to listening deeply, so that the medicine can reveal itself and be truly individualized for exactly what the person needs. As a healer, she knows that the true healing is not her doing something to the other person, but rather her ability to hold space and allow for the client's unfolding.
Dr. Aumatma was also awarded the "Best Alternative Medicine Practitioner" award; she consults with clients locally in the Bay Area and works virtually with clients all over the U.S. as well as various countries.