Erica Blackburn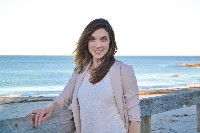 Biography
Several years ago, I began to ask myself, what is my purpose? What am I here to do? How can I breakthrough the cycle of intense fear and anxiety that seems to be running my life? The mental and emotional pain became so big I could no longer cope, manage or avoid it. I had a longing to be in service to myself, others and the world. These factors became the driving force of my path to go inward.
In the pursuit of becoming more aware and whole, I relentlessly sought out masters in alternative health, holistic wellness, and personal development. I had the opportunity to study with Tony Robbins, Deepak Chopra, and Dr. John Demartini. I enjoyed the awakening experiences of becoming a certified Reiki Teacher/Master, Yoga Teacher and Life Coach. I traveled to exotic places... looking for answers, experiences, and ultimately, myself.
When I found BodyTalk in 2014 (or when it found me!), my life took a sudden change. My vision of working in the corporate sector, utilizing my undergraduate Business Administration degree and Masters of Business Administration degree in Human Resources Management, evolved into entrepreneurship, owning a wellness-based and consciousness-based business full-time. I am now using my degrees in ways I never dreamed I would - thank you, BodyTalk!
Since that time, I have continued to grow, opening my own practice in Halifax, NS. I currently see clients and hold workshops in-person and online. In my practice, I work with clients of all backgrounds, truly all are welcome! As we do this powerful consciousness-based work together, it impacts our self, our families, and our world!
I continue to dive deeply into the study of BodyTalk, Conscious Living Investigation, Chinese Medicine, Yoga, and Energy Medicine. My love of learning allows me to provide you with integrated information to apply in your sessions.
Please call, text or email to connect with me.
I would be happy to answer any questions you may have, and help you to determine if what I offer is a fit for you. This can be done in-person, over the phone, or online via Zoom.
I truly believe your healing, wholeness and destiny are possible! With BodyTalk we can resolve the root of the pain and limiting beliefs; open your heart; and allow all possibilities to unfold in your life!
Your time is NOW!
Namaste,
Erica