Jozef Jurkulak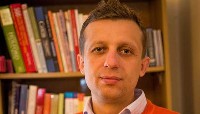 Biography
BodyTalk found me while I was working in very busy hotel.
That time I had diploma from College of Naturopathic Medicine as Nutritionist and diploma from
Bio-Energy and Hidden Mind Corrective Sound Therapy.
I met dr. John Weltheim and another BodyTalk Practitioners, while I was working in the hotel. Stories of their patients amazed me and I started to learn beauty of BodyTalk System.
My clients hugely benefits from BodyTalk Lymphatic Drainage Massage so I trained myself in Indian Head Massage and Raynor Naturopathic Massage to cover full body therapy massage.
I also have diploma in Clinical Hypnotherapy with all master modules. Combination of Hypnotherapy, HiddenMind and BodyTalk have profound results. Such as: Stress, Anxiety, Depression, Fear, Guilt, Sadness, Anger, Self-Esteem, Weight Issues, Unexplained Pain, Mental and Emotional Releasing.
Jozef is a full time therapist, working with children any age, teenagers, adults, seniors and animals.
Jozef`s clinic is based in Dublin beside Dublin Airport, regularly doing treatment sessions in West Cork and Slovakia.
Seeing clients from around the world in person or remote/ distance via zoom, skype, whats app video, Facebook, phone calls.....in English, Slovak, Czech and Polish Language.
Jozef is very Intuitive and experienced Therapist who support clients with personalizing Nutritional & LifeStyle Therapeutic Protocol for speed up recovery and better MindBody results.
Jozef BodyTalk Education Taking Courses:
BodyTalk Access for Human and Animals
BodyTalk: Fundamentals Modules 1 and 2
BodyTalk Fundamentals for Human and Animals by Jacob Loesje
BodyTalk: Principles of Consciousness Modul 3
BodyTalk: Bio-Dynamics Modules 4 and 7
BodyTalk Fundamental Integration
BodyTalk: Lymphatic Drainage and Applied A&P Modul 5 by dr. Tracey Clark
Physical Energetic by John Veltheim and Conor & Pheilm
Traditional 5 Elements Acupuncture
Finding Health Consolidated - Mapping the Healing Process

Founder Treatment Intensive by dr. John Veltheim
Treatment intensive by dr.Janet Galipo and dr. Kerry Ambrogio
MindScape & Advanced MindScape
FreeFall 1 and FreeFall 2
Santag- The Art of Questioning by Ester Veltheim
Linking Awareness - Intercellular Communication
Supplemental courses: Fasting, Hydrogen Peroxide, Care of Intestinal Tract, Immune System, Post-Operative Rehabilitation, Unhealthy family dynamics, Puberty Issues Physical & Emotional, Skin, Eye, Ears
Jozef is a member of International BodyTalk Association, Nutritional Therapist of Ireland. He is regularly attending MindBody health seminars, webinars, workshops and (CPD)continuing professional developing.