Arjen Faanhof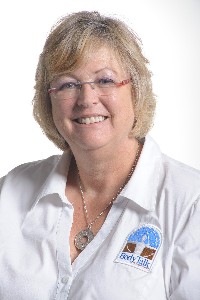 Mrs. Arjen Faanhof
Reiki NLP-pract. Linking Awareness Instructor BARS, CBP, Parama BP, AdvCBP
Clinic
20, Magalies Street

Centurion - Wierdapark - Mnandi, GP
South Africa
Phone: + 27 12 668 3214
studioqi.98@gmail.com
www.bodytalkhealth.co.za
Biography
After having worked as a trained Nurse in the Netherlands for quite a few years, I changed my career and became an Occupational Therapist working with psychiatric patients.
While I was a stay-at-home mom with three children, I was initiated in Reiki and became a Neuro Linguistic Practitioner.
Quite by coincidence I came in contact with the Body Talk System. The healing and positive change I experienced in myself was mirrored by family members and friends, which confirmed in me the desire to take a next step in my life and become a Body Talk Practitioner.

Soon I reached my first 'Body Talk goal', passing the Fundamentals part 1 & 2 exam to become a Certified BodyTalk practitioner. Since then I have completed all BodyTalk modules, including BodyTalk for Animals and the Life Science courses like MindScape, Advanced MindScape and BreakThrough 1 & 2.
My enthusiasm to deepen my knowledge and to add more value to the BodyTalk sessions compelled me to complete the more specialized courses offered by the IBA; -Body Chemistry Specifics, Lymphatic Drainage, Chinese Medicine for BodyTalkers and Structural Integration.
I also studied Right Brain Practical, BodyTalk Interactive, Finding Health 1 and BodyTalk PaRama with Dr John Veltheim.
My latest achievement was passing the exam to become an Advanced Certified BodyTalk practitioner (2011) for which I had to complete a course in Anatomy and Physiology.
The changes I see in my clients amaze me time after time. Most of them have commented on how BodyTalk has changed their lives in a positive and constructive way. They experience better health, a sense of well-being and feel more balanced, more focused and more harmonious in their daily lives. They are better equipped to deal with life's challenges. It fills my heart with joy to see how human and animal clients blossom and grow through BodyTalk.
Because of my love for animals and my ability to communicate with them, which was enhanced by the "Linking Awareness" course for Interspecies Communication with Loesje Jacob (2011), who since then graduated me to Linking Awareness Facilitator, I also attract many animal clients. The results of the BodyTalk sessions for animals are as amazing as those for humans.
Arjen Faanhof
Please feel free to contact me for more information about the BodyTalk System or to make an appointment on:
Tel: 012 668 3214 Cell: 083 285 8033 e-mail: studioqi.98@gmail.com