Greg Fischer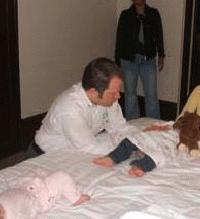 Mr. Greg Fischer
CBP, CST & Myofascial Release, Yuen Mastery, CBP
Clinic
Family Hope Center
2490 Boulevard of the Generals, Suite 250
Norristown, PA 19403
USA
Phone: 267-934-1561
Gfcousin75@aol.com
www.familyhopecenter.org
Biography
» Français
Greg currently works at the Family Hope Center and has been instructed in all higher BodyTalk modules 1-9 and Parama principles via his organization and integrates many modalities to help others resolve their issues.

(www.familyhopecenter.org) teaching home treatment programs in sensory and other neurological programs. He is an SQL in auditory therapy (Solisten Qualified Licensee)

Aside this training, he is also qualified in myo-fascial release techniques and Cranial Sacral (more generally "structural" work) and acupressure often combining both for greater results. Sessions can be arranged either in his clinic or client's home (to be discussed). Greg is bilingual French/English and is often visiting his home in France as well as working in the US so clients in both countries are welcome.
Follow your heart...