Kozue Stankaitis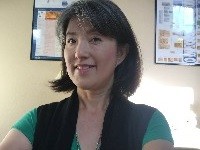 Biography
For last 21 years Kozue has been an Educational consultant for Japanese families. Her responsibility is finding secondary schools in Canada and USA for children and supporting them not only academically but also mentally to help them adjust to a new environment and culture.
She was searching for a way to better support her students and that is when she was introduced to Body Talk. The feeling she had after receiving her first session was amazing. She immediately decided to become a practitioner so she could share this experience not only with her students but with others. She has been certified practitioner since October 2018 and have completed the Advanced courses in July 2019.
She has completed the following BodyTalk courses:
BodyTalk Access
Mod1&2: Fundamentals
Mod 3: Principales of Consciousness
Mod4&7: Bio-Dynamic
Mod 5 : Lymphatic Drainage & Applied Anatomy & Physiology
Mod 6: Macrocosmic BodyMind
Mod 9: Matrix Dynamic
MindScape
Her passion as a Body Talk practitioner is to realign a clients energy so that their body can heal itself. She loves working with children and animals. In-person and remote sessions are available in both English and Japanese.