Nancy Bouchard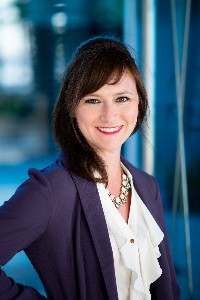 Biography
Certified BodyTalk Practitioner (CBP)
"Until you make the unconscious conscious, it will direct your life and you will call it fate - Carl Jung"

"Our deepest fear is that we are powerful beyond measure. It is our light, not our darkness that most frightens us. Your playing small does not serve the world. There is nothing enlightened about shrinking so that other people won't feel insecure around you
- Marianne Williamson"
After years of experiencing many health challenges because of Lyme disease and a multitude of symptoms that were not able to be resolved using Western medicine, I had more questions than answers. My quality of life was nowhere to be found. My condition had been labelled as 'chronic/late stage' by the medical community and I felt hopeless. I felt trapped in my own body with a series of debilitating physical, cognitive and neurological symptoms.

This led me to look outside the conventional medical model to find answers and ultimately working with an incredible system called BodyTalk of which I am now a Certified Practitioner.
For me, the only way out was through. I went from trauma, to resilience to thriving. I can say confidently that I have traveled my way back home to vibrant health.

I wholeheartedly believe in the body/mind/spirit connection. I am fueled by transformation inside out and I am passionate about helping people on their journey to wholeness and unleashing their human potential by re-balancing the body/mind at the physical, emotional, mental and spiritual levels (because we do exist beyond our physical body).
Healing is not about masking symptoms, but it's about restoring functional integrity of the body/mind by addressing the root-cause of conflict or imbalance.
BodyTalk works by tapping into the body's innate intelligence and ability to heal itself and by restoring a state of balance (homeostasis) we have been designed to operate from.
With the use of structured intuition, biofeedback and a variety of non-invasive techniques, BodyTalk helps re-establish internal lines of communication within the body/mind.
For instance, it can help release trapped emotions, stored memories with emotional charges that have been buried alive and shed limiting beliefs...that are often subconscious. It can help us rise beyond narratives and programming that are preventing us from living our true nature: from a state of love, connectedness and vitality.
BodyTalk can also help with recovery from an illness or injury, improve athletic or any other type of performance, enhance other forms of treatment, support general health or clear away emotional and mental blocks.
About Me:
I believe in UNITY: because we are all made of the same fibers. We are far more alike than we are different. I am dedicated to individual and global healing. Inspiring influencers, change makers and consciousness seekers to come alive is at the heart of my work.

Are you ready to explore what is holding you back? Are you ready to go from limited to limitless?
I would love the opportunity to work with you and help you elevate your life...A life worth living. Thriving, not just surviving. When we are thriving, it has an immense ripple effect on others, our community and environment.

Work with me
How to work with me?
If you are new to Bodytalk, you should take advantage of a free 15 min. consult to cover any questions you may have and learn how it may benefit you.

For clinic appointments or distance sessions, by phone or online video chat, please email me at nancymariebouchard@gmail.com or call/text at 403-828-9223. I would love to work with you in this way.

Services available in English / French. Registered Member of the Natural Health Practitioners of Canada (NHPC).

Nancy Bouchard
Healing, Transformation and Growth Specialist