Norie Furuya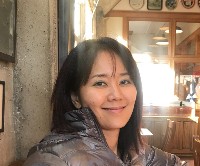 Biography
Norie Furuya has been participating in healing practices since 2012, triggered by her son's recurring symptoms of ear infection, bronchitis and her own chronic shoulder pain.
Her son's symptoms were treated by the application of essential oils, hot bath with running shower, air purifier with auto-control humidifier, lemon water and her symptom was treated by self-applying therapy called self-body alignment introduced by Yu Yagami.
She has come to understand the importance of non-invasive, natural healing, utilizing the gift of nature and balancing the bodily and surrounding environment in a way that the body's healing intelligence can focus readily on the main target.
Norie combines her background in Traditional Chinese Medicine (Meridians, Acupuncture and Herbal Formulas), Western Medicine (Anatomy, Physiology, BioChemistry, and Nutrition), Bio-energetic Therapy (re-balancing of body's energy field), Essential Oils, Gemstone Therapy, Non-Violent Communication (NVC), and Self-Alignment Exercise (bony structure balance) with her passion for bringing new awareness of self-healing in an authentic, loving way.
Her particular interest lies in helping people to be their own healer, knowing what to do when things go out of balance.
She maintains a warm, welcoming, supportive space for people to turn inward, relax, unwind, and reconnect with their true nature and their own unique healing intelligence.
She continues to expand her skills as a certified BodyTalk practitioner, giving hands to people on their unique healing journey.