Sharon Savage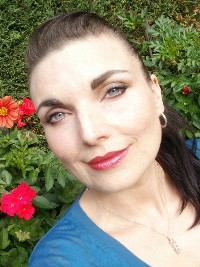 Sharon Savage
Reiki Master/Teacher, Munay Ki Teacher, Life Coach, CBP
Clinic
In person sessions in Barnsley (near junction 37 & town centre)
Distance sessions available.
Barnsley, YORKSHIRE
UK
Biography
Imagine the caterpillar, feeling encased in darkness, perhaps fearing the end.
Yet the creature is entering a transition, a necessary time of change,
before it is reborn with even brighter colours and wings to carry it anywhere.
If we let go of the things which do not serve us,
we too can experience magnificent liberation, just like the butterfly.

Sharon has dedicated her time to understanding human relations and exploring the depths of the psyche, with an endless fascination for how we all fit into the bigger picture of life.
Trained in martial arts, dance and Hatha yoga, she practised fully tuning into her physical body and recognised that it was very much connected to the mind and emotions. Born as an empath, she has had to learn to navigate the ultimate depths of the internal terrain and has the uncanny ability to read extra information about people which she has found to be of great value when helping others.Her natural inclination towards the creative arts really assists her intuition in finding those 'out of the box' solutions.
After obtaining qualifications in a whole range of holistic therapies which she has worked with over the years, she has found BodyTalk to produce the quickest results without the need for reliving painful experiences. She is constantly amazed by the improvement she witnesses in her clients and although sometimes the changes can be more subtle, quite often the differences are so dramatic that she just experiences a feeling of awe as she is reminded of the miraculous magic of life itself!
The body's ability to heal itself is natures design, but sometimes we just need a helping hand to bring about balance to allow that process to happen effectively. Sharon's personal healing journey has presented her with challenges on many levels which has not only inspired her faith in the human capacity to heal, but it has also vastly expanded her ability to relate to her clients perspectives.
Her passion for BodyTalk is clearly evident and she has decided to focus primarily on this modality in order to master all the possibilities of this ingenious system. She is enthusiastic about expanding her knowledge and continues her learning with dedication. Every client contributes to her further understanding for which she feels truly blessed!
However, she does still practise and teach traditional Usui Reiki for this was also a path she holds as very sacred and life changing. When requested, she also teaches the Shamballa Multi- Dimensional Healing System and the Munay Ki.
The tools, knowledge and skills she has collected from other modalities can come up through the BodyTalk framework if they are beneficial for the client but she no longer feels the need to offer them as separate treatments.
Sharon feels called to draw upon the breadth of her knowledge, utilising her natural gifts and talents, to help others achieve their greatest potential. For those who wish to go deeper into self-development she is happy to share the wealth of her experience and offers personal coaching.
Her clinic is near junction 37 of the M1, convenient for those in both South Yorkshire and West Yorkshire, and is a short walk from Barnsley town centre.
The clinic has free parking.
Please email for further details and to book an appointment.
Distance sessions are available for those who are unable to make it in person.
IBA Courses to date:
BodyTalk: Fundamentals
BodyTalk: Principles of Consciousness
BodyTalk: Bio-Dynamics
BodyTalk: Lymphatic Drainage & Applied Anatomy and Physiology
BodyTalk: Macrocosmic Bodymind
BodyTalk: Matrix Dynamics
BodyTalk Direct
CDRRRII Plug-in
Orthopedic Evaluation
Mindscape