Jennifer Chee Mae Soon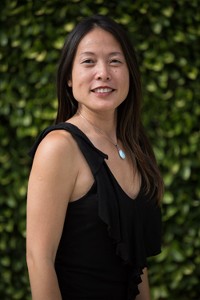 Biography
How I got here
I found Bodytalk through a car accident which left me with vision problems, constant pressure on the side of my head, and inability to use my arms without experiencing pain and weakness for 3 years. I was upper body dominant and, at that point, loved to parkour, rock climb, ski, practice yoga, and kayak but doing any of those activities made the symptoms worse.
Like anyone else, I didn't want to complain about the daily discomforts and just dealt with it as best I could trying many modalities of treatment. When the doctors, X-rays and MRIs showed that there was nothing wrong with me, I was in silent despair. My amazing colleagues in their respective fields helped maintain my ability to function, but it was temporary from one treatment to another. During this time, I had studied and explored different ways of approaching my own healing and it led me to Bodytalk.
I understand how not feeling at ease in our bodies can hold us back from activities we enjoy or how simply interacting with people and our environment can be overwhelming.
Bodytalk has given me a way to bring together the modalities and tools I have learned in a systematic way to be able to connect the structural, emotional and conscious aspects of our bodies' own innate healing ability.
The community is extremely supportive and each person has an amazing story of their introduction to Bodytalk. I highly recommend scheduling a session with a practitioner near you.
My goal is to help you restore fluidity in your body, find relief from pain patterns, feel length and lightness in your stride, gain more mobility and alignment, and help YOU move more effortlessly through life. it's worth your time!
What I've been learning about


Mind Body
SomatoEmotional Release 1 & 2, Upledger Institute
Bodytalk Fundamentals Modules 1 and 2
Bodytalk 3: Principles of Consciousness
Bodytalk 4(7): Biodynamics
Bodytalk 5: Lymphatic Drainage
Bodytalk 6: Macrocosmic BodyMind
Bodytalk 9: Matrix Dynamics
Structural
Anatomy in Motion (AiM), Gary Ward
Gil Hedley Intensive 6-day Dissection
Upper Extremity, Ron Murray
Diaphragm, Ribs and Embryonic Midline, Ron Murray
Cervical and Shoulder Joint Restrictions, John DeMahy
Resolving Low Back Pain, John DeMahy
Wheeler Fascial Work - For Scars, Susan Wheeler
Wheeler Fascial Work - For Bones, Susan Wheeler
Fascial and Membrane Technique, Peter Schwind
Working with Children and Babies, Jim Asher
Biomechanics of Alignment, Liz Gaggini
Anatomy of Breath, Tom Myers
Myofascial Meridians Workshop, Tom Myers
Visceral and Nerve Manipulation
Visceral Vascular Manipulation: Upper and Lower Body
Neuro-Visceral Manipulation of the Thorax and Abdomen
Listening Techniques 1 & 2, Barral Institute
Visceral Manipulation: The Thorax, Barral Institute
Visceral Manipulation: The Pelvis, Barral Institute
Visceral Manipulation: Abdomen 1 & 2, Barral Institute
Core Integration (Visceral Manipulation in Structural Work), Liz Gaggini
Neuromeningeal Manipulation, Barral Institute
Central and Peripheral Connections, Barral Institute
CranioSacral
Brain 1: Brain Tissue & Autonomic Nervous System, Chikly Institute
Brain 2: Brain Tissue & Reticular Alarm System, Chikly Institute
Brain 3: Brain Tissue & Peripheral Nervous System, Chikly Institute
CranioSacral Therapy and the Immune Response, Upledger Institute
CranioSacral Therapy 1 & 2, Upledger Institute
Brain and Cranial, Barral Institute
Anterior Neck and Cranial Base, Ron Murray
Cranial Sacral Therapy Certification, Jim Asher
Movement Training and Corrective Exercise
TRX Suspension Training Course
Yoga Teacher Certification, Triad Yoga and Pilates
Rolf Movement: The Functional Rationale of the Recipe, Monica Caspari
Hand and Foot Instructor Training, The MELT Method
Circus as an Educational and Therapeutic Tool, Holistic Circus Therapy
Yoga Anatomy, Tom Myers
Yoga as Therapy, Doug Keller
Thai Yoga Bodywork, Michael Buck
Active Isolated Stretching, Aaron Mattes
Other Myofascial Courses
Orthopaedic Massage and Pain Management, James Waslaski
Strain-Counterstrain for the Spine, Jones Institute
Orthopaedic Massage: Injury Assessment and Treatment, Ben Benjamin
Myofascial Release 1, 2 and Unwinding, John Barnes
Bodywork for the Childbearing Year ® Certification, Kate Jordan
Sports Massage, AMTA
Healing and Sports Stone Massage Certification, Carollanne Crichton
What I used to do
Product Management, Regional Banking
Business Analyst, Training and Development
Business Analyst, Debit Cards
Product Management, Stored Value and Prepaid Cards
Affiliate and Strategic Partnership Marketing
E-Business, Acquisitions and Channel Marketing
Client Server Developer, Marketing Services IS
Web Development and Design
International Industrial Event Marketing
My college days...
BS in Management Information Systems, concentration in Decision Support Systems
Virginia Polytechnic Institute and State University
Diploma in Computer Studies, NCC, ICL, Malaysia