Seminars etc.
Instructors
Course Descriptions
Spiritual Stress with Ben Manalo
Show all Upcoming Spiritual Stress with Ben Manalo Courses Scheduled | Back to List of All Courses
---
This is an opportunity for anyone to partake in a group BodyTalk session with one of the BodyTalk System's top instructors, Ben Manalo. Ben has been teaching BodyTalk Fundamentals, Access and Principles of Consciousness for many years now and he will be bringing his expertise in the subject of the five senses, belief systems and consciousness to this series of Group Sessions. This work is not a subject that BodyTalk Founder John Veltheim often addresses directly in his sessions, so we are looking very forward to Ben's perspective and skill in this area.

This session will focus on spiritual stress, which we can also call existential stress. BodyTalk "consciousness techniques" are able to reduce the stress we experience by simply being human. Fundamental feelings of separation, guilt, fear, mortality, and goal-driven behavior will be targeted in the final group session in this powerful series.

Group sessions are done at a distance through online Livestream broadcast. The recording will be available if you cannot attend live and is just as effective as viewing in person. Whether listening live or at a later date, remote group sessions will increase your understanding of important BodyTalk concepts that you can bring into your sessions with clients, as well as providing an opportunity for shifts in your own health, consciousness and perception.
This course counts for 1 hours of continuing education for Certified BodyTalk Practitioners' requirements.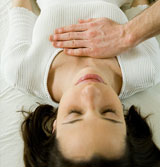 You cannot hurt anyone with BodyTalk. If you perform a technique incorrectly, it simply means there will be no result or change. It will not make the situation worse.
Spotlight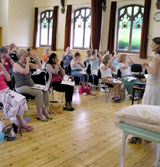 An Access class in the UK. One six-hour class is all that's needed to learn a basic health maintenance routine that can be used for a lifetime!