Q&A: The Struggle with self with John & Esther
Show all Upcoming Q&A: The Struggle with self with John & Esther Courses Scheduled | Back to List of All Courses
---
IBA Co-founder, Esther Veltheim, invites us to join her in exploring this one thing we all have in common, our struggle with our self.
We are our own dragons as well as our own heroes, and we have to rescue ourselves from ourselves."

– Tom Robbins


Course Description:
In John Veltheim's recent Soul's Journey Study Group series, some focus was given to the concept of active memory—or historical thinking as Esther called it. It was suggested that one of the key components to having a healthy Three Brain Complex is to challenge our assumptions. To take this work a little deeper, Esther is offering an interactive Question and Answer teleconference, with particular emphasis on self-reflection or self-inquiry as it pertains to the Three Brain Complex and the struggle with our own thinking processes. The following describes one of the head brain's strongest habits and the role of self-inquiry.

THE HOARDER
When left to its own devices, the head brain becomes a compulsive hoarder. It accumulates and stockpiles learned information and stories, squirreling them away as if readying itself for a famine. The greater the head brain's hoard of learned information and stories, the more adept it is at steamrolling intuition and guarding against the heart. Like any addictive behavior, the head brain's compulsion to learn and cling escalates until pathology successfully masquerades as a necessity: hoarding becomes essential to living.

Like any addiction, hoarding information and knee-jerk answering weaken the head brain. Its ability to discriminate and draw on its discretionary dimension suffer dramatically. Habitually satisfying its urges with a knowledge fix allows the head brain to close down to the unknown. Conversely, when the Three Brain Complex is dynamic, the gut brain informs and the heart brain anchors. Self-inquiry questions all learned information, stories and our assumptions about them. This means that self-inquiry puts the head brain's addiction to hoarding and its entire stash of knowledge and stories under threat. A simple explanation of self-inquiry is the process of questioning all our assumptions. A simple place to begin self-inquiry might be to ask "What do I know for sure?"

Topics to be covered:
Active Memory/Historical Thinking; feeling of not belonging; expectations; depression; overwhelm.
If any of the preceding speaks to you, whether you have questions or not, please join our Q&A and we will explore together. Although I am calling this class a Q&A, my focus is not simply to answer your questions. My role is, primarily, to serve as a catalyst for the deepening of our own questioning process.
This course counts for 3 hours of continuing education for Certified BodyTalk Practitioners' requirements.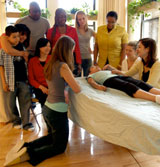 The BodyTalk System is safe, has a scientific basis, develops creative and intuitive skills, and is fun for the whole family.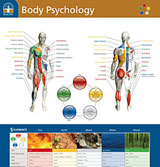 BodyTalk course materials facilitate the learning process.