Group Session Finances – Three Brains
Show all Upcoming Group Session Finances – Three Brains Courses Scheduled | Back to List of All Courses
---
This group session focuses on the Three Brains as part of the Healthy Finances series. Our relationship to money is an important one. When we are honest, generous, and at peace in our relationship with money, we find that we very rarely have issues with it and always feel like we have exactly enough. Do you know anyone who never worries about money, and when they suddenly need a lot of money for an emergency or a project, it is somehow there for them? However, when we worry about money, always feel like we need to make more, never feel like we have enough, or have concerns about how much money we will have in the future, then money issues suddenly seem to plague us. This session will balance money as it affects and influences our three brains—the head, heart, and gut brains. It will also address Active Memories and ancestral influences around loss, failure, poverty, and hardship as it is related to money.
Anyone who worries about money or thinks about money often will benefit from this session. Experiencing any of the three Healthy Finances sessions will help us to have a healthier and more content relationship with money.
This is an opportunity for anyone to partake in a group BodyTalk session with the Founder of the BodyTalk System, Dr. John Veltheim. These sessions will be done at a distance through online broadcast. The recording will be available if you cannot attend the live airing. Viewing recordings is just as effective as receiving sessions in person in real time. Whether listening live or at a later date, remote group sessions will increase your understanding of important BodyTalk concepts that you can bring into your sessions with clients, as well as providing an opportunity for shifts in your own health, consciousness and perception.
Group sessions often combine varying degrees of lecture and session time. Even when John appears to be lecturing, his lectures are part of the treatment process. Please note that the length of group session events is always unique as it is dependent on the group that comes together and the treatment required. This means that a session can be as short as 20 minutes or occasionally go an hour or more. Because sessions will always be spontaneous, we cannot set correct time limits for them, so we choose to set a 30-minute average knowing that they might go shorter or longer.
This course counts for 1 hours of continuing education for Certified BodyTalk Practitioners' requirements.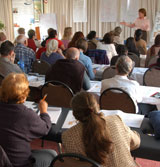 The BodyTalk System training enables you to practice holistic medicine in the truest sense of the word - body, mind, and consciousness.
Spotlight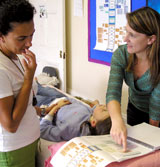 The IBA's Instructors are passionate about their work and dedicated to teaching this simple, but comprehensive system.