Advanced MindScape: Stretching the Synapses
Show all Upcoming Advanced MindScape: Stretching the Synapses Courses Scheduled | Back to List of All Courses
---
Stretching the Synapses means:
• Opening up to new possibilities
• Poking holes in our perceived limits
• Imagining what else is possible and engaging our senses with new, imagined realities
• Understanding our beliefs/auto-pilot so that we can see all of the options that lay ahead of us at any given moment
Elastic band analogy to explain Stretching the Synapses:
Stretching the mind to new ideas can:
- make old, rigid, dried out ideas/BS/understandings completely break.
- make other neuropathways (ideas/BS/understandings) stretch out.
• When this happens, the old BS don't have the elastic recoil anymore, and thus, not the same automatic power/control. We are better able to see these BS for what they are—old, outdated limits.
• When BS stretch out, they sag and get floppy--they get weak, like stretched out elastic in that super old piece of clothing or bathing suit. This sag allows the BS to move into new territory and make new, stronger connections.
• When BS break, (think of an earthworm readjusting/ reorienting itself) —
those old connections are no longer running, so that energy then begins to find a new (aligned) place to connect based on the transformation of you/your thinking /
perception.
This course counts for 16 hours of continuing education for Certified BodyTalk Practitioners' requirements.
Spotlight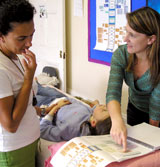 The IBA's Instructors are passionate about their work and dedicated to teaching this simple, but comprehensive system.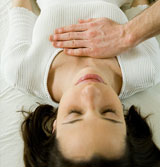 You cannot hurt anyone with BodyTalk. If you perform a technique incorrectly, it simply means there will be no result or change. It will not make the situation worse.