Harmony Unveiled: From Hurt to Healing
Show all Upcoming Harmony Unveiled: From Hurt to Healing Courses Scheduled | Back to List of All Courses
---
You are not defined by your past hurts or mistakes. Healing comes when you release the shame and guilt and allow yourself to be vulnerable, forgiving, and compassionate towards yourself.
This transformative session focuses on the profound journey from hurt to healing, disentangling tentacles to self-blame and victimhood. The weight of such experiences as shame, guilt, abandonment, and loneliness are addressed to unburden the spirit and illuminate a path to liberation. Key elements like the psoas muscle (known as the "muscle of the soul"), the Svadhisthana (sex) chakra, and the process of individuation are highlighted to help release resentments and foster our capacity to cultivate healthy compassion and embrace self-acceptance. Ultimately, the session aims to help you recognize and deeply appreciate your own natural strength and resilience in overcoming challenges.
This course counts for 1 hours of continuing education for Certified BodyTalk Practitioners' requirements.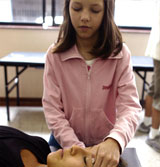 The BodyTalk System stimulates your body's innate ability to heal itself at all levels and anyone can learn the basic techniques taught in the Access Class.
Spotlight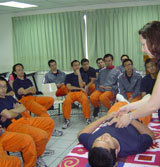 BodyTalk bridges the gap between Western medicine and alternative modalities. These Taiwanese firefighters can use Access Fast Aid in emergency situations.