Course Registration
You have selected a course. To complete your registration, please follow these simple steps.
Location
Deutsch - Zoom online, live & interactive
Thurmansbang Bavaria
Online Deutsch & Bavaria, 94169 Germany
Discount
Für die ersten 10 Anmeldungen gilt der Spezialpreis von 499 €.

Wiederholergebühr: €199
Details
MindScape ist eine kraftvolle Methode, mit der Sie den Zugang zu Ihrer Intuition und Kreativität (wieder)entdecken und lernen, diese besonderen Fähigkeiten in das tägliche Leben zu integrieren. Ist der Zugang einmal wieder bewusst, bietet die MindScape Technik große Vorteile und eröffnet enorme Möglichkeiten für jeden Aspekt des Lebens.

Darüber hinaus sind die im Seminar erlernten Techniken auch leistungsfähige Werkzeuge für die persönliche Entwicklung sportliche Erfolge Geschäftserfolge Gesundheitsfürsorge künstlerischen und kreativen Ausdruck Für die Teilnahme am Seminar sind keine besonderen Voraussetzungen bzw. Vorkenntnisse erforderlich.

Der Kurs besteht aus theoretischen und interaktiven Teilen, in welchen die Technik ausgiebig geübt wird, so dass man sie nach dem Seminar direkt umsetzen und im Alltag anwenden kann.
Dieser Kurs wird auf Englisch unterrichtet und ins Deutsche übersetzt.

Instructor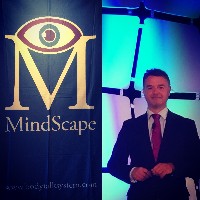 Andy@mindscape.academy
mindscape.academy