Course Registration
You have selected a course. To complete your registration, please follow these simple steps.
Location
Online Via Zoom
North America / UK / Europe
Online North America/UK/Europe, CA USA
Discount
New Students Extra discounted online special :First 6 to register and pay - just US$599 total cost - no additional taxes/booking fees.
Monitors/Repeaters US$249

Details
Pacific Time: 9am-2.00pm, Eastern: 12pm -5pm,
(UK Time: 5pm-10pm)
Times suitable for those in North America, UK and Europe
*ALSO SOUTHERN HEMISPHERE SATURDAY 9TH-MONDAY 11TH DECEMBER 2023 WELLINGTON NZ 6AM-11AM,
Please check your timezone on worldtimebuddy.com




There's no better time to take Advanced MindScape:Another Dimension, from the comfort of your own home online via zoom
We are in an ever-changing world and need to continually adapt to succeed in life. This Advanced MindScape class is designed to help you let go of old programming, habits and limiting beliefs that create resistance to change. So often we feel we are paddling up stream against the flow......
I am so honoured to witness the changes, growth and healing that occurs in this class. So many students feedback just how far this class exceeds their expectations and the amount of healing that takes place, in a safe and gentle environment.
With 3 days of constant practice this class is designed to provide a fantastic platform for MindScapers to really grow the TRUST in the power of their MindScape Workshop, their intuition, and of course themselves.
Learning quick access techniques, and practice with open eyes, transforms how you can use MindScape in your everyday life.
Learning to utilize and find answers in our everyday environment as well as our workshop brings a while new level to MindScape. This class is designed to provide a real opportunity to help you gently let go of your old story and create a new reality!
The online format lends itself to some powerful partner work, healing and growth. The privacy of the breakout rooms on Zoom have actually enhanced the power of these sections of the class.
Many students retake this class time and again as each experience provides a unique opportunity for further insight and growth.
Please complete your registration by going to the MindScape Academy ticket site here:

Instructor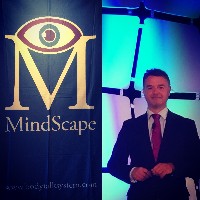 Andy@mindscape.academy
mindscape.academy
Coordinator
Andy Spencer
andy@mindscape.academy
Cell Phone: Mindscape.academy
Fax: https://buytickets.at/mindscapeacademy