IBA Store
TV Shows and Other DVDs

This DVD contains three video clips: an introduction to the BodyTalk System, an introduction to BodyTalk Access and a media report on BodyTalk. These...
$12.00

Perspectives 2 now in stock and shipping! This new DVD was developed from a series of interviews filmed at the 2007 Members Conference. We...
$15.00

This DVD is a great way to promote your BodyTalk practice. On the disc: Dr. John Veltheim provides the background and history of BodyTalk, Kerry...
$15.00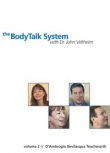 As a follow-up to the first disc, this DVD contains great interviews with Jeanette Bevilacqua of the Center for Mind Body Therapy; Lynn Teachworth,...
$15.00