Lesley McIntyre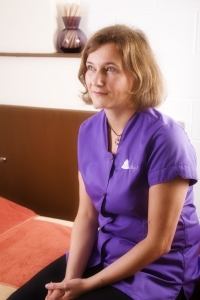 Lesley McIntyre
MA (hons), DipAK, Reiki / Seichim Master, CBI, BAT, CBP, Parama BP, AdvCBP
Clinic
Unit 26 Ballymena Business Centre
Galgorm, Ballymena
Co Antrim , BT42 1FL
UK
Phone: 00 44 (0)7702 393099
amethyst.nhc@icloud.com
www.amethyst-healing.co.uk
Biography
Lesley McIntyre MA (hons), DipAK, AdvCBP, Par.BP, BAT, CBI
Advanced Certified BodyTalk Practitioner
PaRama BodyTalk Practitioner
Certified BodyTalk Access Trainer
Certified BodyTalk Instructor
Systematic Kinesiologist
Reiki Master (Usui Western & Eastern, Tibetan, Karuna & Seichim)
00 44 (0)7702 393099
amethyst.nhc@btinternet.com
Website
Social Network
http://www.amethystnaturalhealing.ning.com

Amethyst Natural Healing Centre
Unit 26 Ballymena Business Centre
Galgorm
BALLYMENA
Co Antrim
BT42 1FL
Northern Ireland
Home clinic (near Belfast)
30 Millbank Road
Templepatrick
Co Antrim
BT39 0AS
Northern Ireland
Sessions available Tuesday, Wednesday, Thursday & Friday by appointment only - Children & Animals welcome
Distance Sessions available
BodyTalk Practice Groups with Instructor
Fundamentals - monthly
Advanced Modules - monthly
Wednesdays from 7 - 9pm
IBA Modules Completed
BodyTalk: Fundamentals
BodyTalk: Principles of Consciousness
BodyTalk: Bio-Dynamics
BodyTalk: Macrocosmic BodyMind
BodyTalk: Matrix Dynamics
BodyTalk: Lymphatic Drainage & Applied Anatomy & Physiology
Advanced Modules Integration
BodyTalk for Animals
BodyTalk Interactive
Finding Health: Mapping the Healing Process
Finding Health 2: Applied Consciousness
Founders Treatment Intensive
MindScape
Advanced MindScape
BreakThrough
FreeFall 1
BodyTalk Orthopedic Evaluation
BodyTalk Fascial Balancing 1
Structural Integration
BodyTalk Access
PaRama 1 Practical with John Veltheim
Eastern Medicine
BodyEcology
Like most practitioners ill health sparked Lesley's interest in complementary health & her determination to find ways to help herself. As an "ME/Fibromyalgia" sufferer since her teens in Dundee Scotland, the final straw came in 2002 when she fell off her motorbike & broke her collar bone. The bone took 5 months to heal with the ongoing threat of surgery, pins & plates. In 2003 she became a Reiki Master and opened her practice in Northern Ireland.
Although Lesley is a Master of several types of Reiki, a Kinesiologist and has studied various complementary health techniques she always felt something was missing until BodyTalk found her. In 2007 she qualified as one of the first Practitioners taught in Northern Ireland / Republic of Ireland. In February 2009 she qualified as the first BodyTalk Access Trainer, by November that year the first Advanced Certified Practitioner & by July 2010 the first BodyTalk Instructor. She now effortlessly integrates her modalities to offer clients a unique, dynamic healthcare programme and loves introducing people to BodyTalk. Lesley is working at the highest level of BodyTalk and the results continue to amaze her, her clients and her students.
In June 2008 Lesley decided it was time to expand Amethyst Natural Healing Centre & moved to new premises at Ballymena Business Centre in Galgorm, Co Antrim. The Centre now offers one of the widest ranges of Complementary Health treatments available in Northern Ireland from some of the most experienced Practitioners and Therapists around. The Centre also hosts many different courses for people who want to learn ways to help themselves or become Practitioners themselves.

Lesley's Masters degree in English and Psychology from Dundee University and her background in communications landed her the Communications role within the BTNUK (BodyTalk Network UK) Committee. She is dedicated to spreading the word about Complementary Health in general and helping pioneer BodyTalk in Northern Ireland, Republic of Ireland & the UK......especially Scotland her home country.
Amethyst Natural Healing Centre
Treatments Available
Aromatherapy Massage
Bach Flower Remedies
Business & Personal Coaching
BodyTalk System
Bowen Technique
Counselling
Emotional Freedom Technique (EFT)
Hopi Ear Candles
Systematic Kinesiology
Massage Therapy (incl. Sports & Injury)
Nutrition & weight management
Reflexology
Reiki
Swiss Reflexology
Tension Relieving Back Massage
Yoga & Yoga Therapy
More details are available on the website
http://www.amethyst-healing.co.uk

Social Network
http://www.amethystnaturalhealing.ning.com