Seminars etc.
Instructors
Course Descriptions
BodyTalk Fundamentals Integration
Show all Upcoming BodyTalk Fundamentals Integration Courses Scheduled | Back to List of All Courses
---
This course is conducted by IBA instructors to help BodyTalk practitioners refine their skills in the practical aspects of BodyTalk.
The instructor also reviews the key elements of BodyTalk Fundamentals and expands on some of the subjects that couldn't be addressed in the actual Modules because of time constraints.
The class also gives practitioners a chance to clear up any issues they may have with BodyTalk based on the fact that they have had an opportunity to practice the BodyTalk System and become comfortable with the basics.
If you are sincerely interested in developing and refining your skills in the BodyTalk System, this is a very important course to take.
This course counts for 16 hours of continuing education for Certified BodyTalk Practitioners' requirements.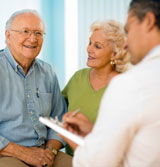 The BodyTalk System enables you to comprehensively explore the big picture of health care, outlining the client's health challenges in a systematic and thorough fashion.
BodyTalk course materials facilitate the learning process.